Best BH6 Base 2.0 NEW Layouts With Link 2023
BH6 Base :
Welcome to CopyCoCBases, your ultimate destination for top-notch BH6 base layouts 2.0 tailored specifically for Clash of Clans enthusiasts! In this ever-evolving gaming landscape, mastering the art of base building is essential to ensure your stronghold's supremacy and protect your valuable resources. With a team of skilled strategists and avid Clashers, CopyCoCBases is proud to present its latest offering – brand-new BH6 base layouts 2.0 featuring innovative outpost designs.
As Clash of Clans has progressed, base layouts have evolved to counter the ever-changing strategies employed by opponents. BH6 base represents a crucial stage where players gain access to new defensive structures like the Roaster, Giant Cannon, and Air Bombs. Crafting an effective base layout is vital at this stage to protect against a variety of attacks and secure your trophies.
CopyCoCBases has dedicated countless hours of research and testing to develop these new BH6 base layouts 2.0. Our team constantly stays up-to-date with the latest meta, ensuring that our designs are optimized to withstand the most formidable attacks in the game.
The Roaster Rampart: This cutting-edge BH6 base layout revolves around the strategic placement of the Roaster, a powerful defensive structure capable of wreaking havoc on ground troops. The Roaster Rampart design emphasizes funneling and forcing the enemy troops through deadly traps while the Roaster fires relentlessly, obliterating the opposition.
The Aerial Arsenal: With airborne assaults becoming increasingly common, the Aerial Arsenal is engineered to thwart aerial-based attacks. By incorporating Air Bombs, Firecrackers, and strategically placed Air Defenses, this layout ensures that enemy air forces meet a swift and disastrous end.
The Trap Enclave: Trap enthusiasts will love this innovative layout that capitalizes on traps' hidden power. Leveraging Spring Traps, Push Traps, and strategically placed Bombs, the Trap Enclave is designed to lure unsuspecting foes into their demise.
In the pursuit of enhancing BH6 base layouts, CopyCoCBases has pioneered the incorporation of Outposts. These unique structures serve as additional layers of defense, complicating the attacker's path and forcing them to reconsider their strategies.
The Crusher Fortress: The Crusher Fortress is an Outpost-centric design that places Crushers at the core of the base, supported by multiple defenses. With Crushers serving as the frontline, enemy forces face a daunting challenge as they attempt to breach the fortress.
The Archer Tower Nexus: This innovative base layout revolves around the Archer Tower Nexus, a central hub of defensive power. By encircling it with powerful defenses, such as the Giant Cannon and Double Cannons, attackers find themselves facing a formidable core that can repel even the most persistent onslaughts.
The Tesla Maze: For a more mind-boggling experience, the Tesla Maze base layout comes into play. Hidden Tesla Towers are cleverly arranged in labyrinthine patterns, catching attackers off-guard and rendering them vulnerable to further attacks.
Expertise: CopyCoCBases prides itself on a team of seasoned Clashers, armed with extensive knowledge of the game mechanics, meta trends, and innovative strategies. Our expert base builders continuously analyze game data and perform thorough testing to provide top-tier layouts that work effectively.
User-Driven Approach: At CopyCoCBases, user satisfaction takes precedence. We actively engage with our community, gathering feedback and insights to refine our base layouts. User suggestions and preferences play a pivotal role in our continuous improvement process.
Versatility and Customization: Recognizing that every player's playstyle and preferences differ, we offer a wide array of BH6 base layouts 2.0 to cater to diverse needs. Additionally, we encourage players to tweak and customize these layouts to suit their unique strategies.
In the ever-competitive world of Clash of Clans, mastering the art of base building is crucial to ensure victory and prosperity. With CopyCoCBases' cutting-edge BH6 base layouts 2.0 and innovative Outpost designs, players can reinforce their strongholds, defend their resources, and repel the fiercest of attacks. Let CopyCoCBases be your guiding force to achieve unparalleled success in the game!
So, embark on this thrilling journey with us as we revolutionize BH6 base layouts and empower your Clash of Clans experience like never before!
Table of Contents
Builder-Hall 6 Base 2.0 NEW Layout – 1
Builder-Hall 6 Base 2.0 NEW Layout – 2
Builder-Hall 6 Base 2.0 NEW Layout – 3
Builder-Hall 6 Base 2.0 NEW Layout – 4
Builder-Hall 6 Base 2.0 NEW Layout – 5
Builder-Hall 6 Base 2.0 NEW Layout – 6
Builder-Hall 6 Base 2.0 NEW Layout – 7
Builder-Hall 6 Base 2.0 NEW Layout – 8
Builder-Hall 6 Base 2.0 NEW Layout – 9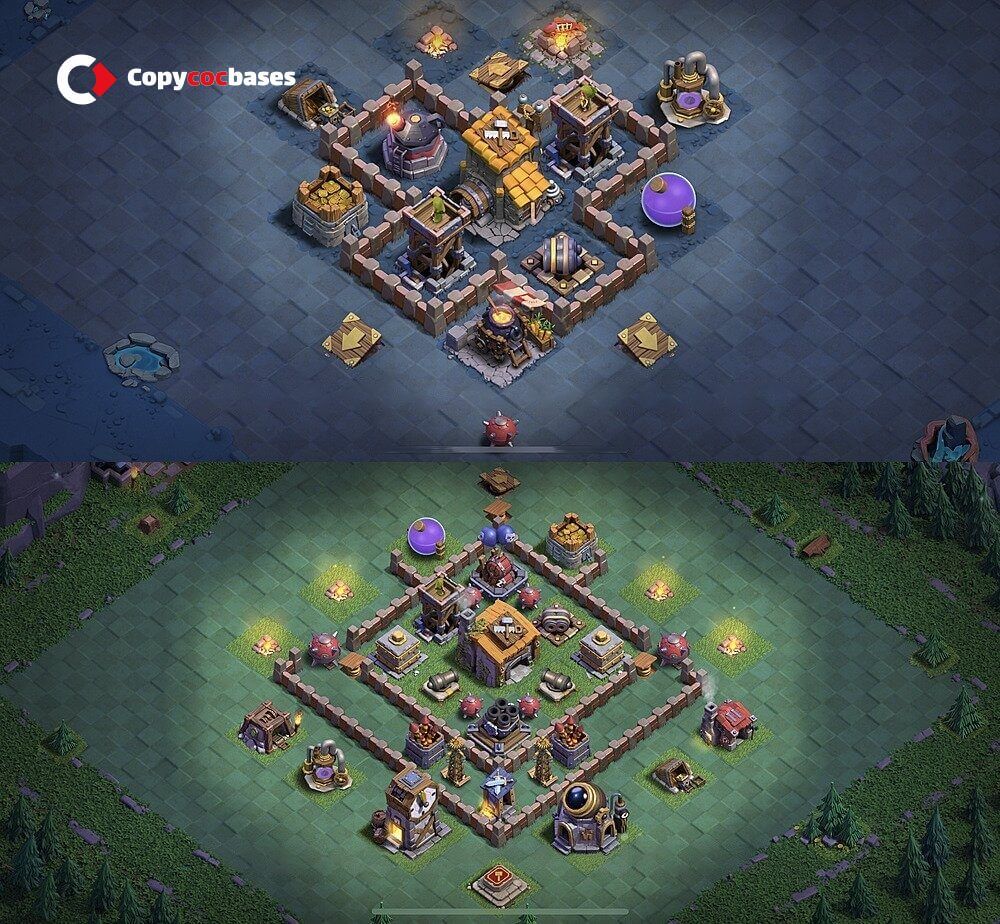 Builder-Hall 6 Base 2.0 NEW Layout – 10
Builder-Hall 6 Base 2.0 NEW Layout – 11
Builder-Hall 6 Base 2.0 NEW Layout – 12
Builder-Hall 6 Base 2.0 NEW Layout – 13
Builder-Hall 6 Base 2.0 NEW Layout – 14