10+ New Ultimate BH8 Bases with Link 2023 (BB2.0)
Welcome to Copycocbases, your one-stop destination for the most powerful and innovative BH8 bases in the Clash of Clans universe. Our website is dedicated to providing clashers with the latest and most effective base designs, helping them gain a competitive edge and dominate the battlefield. In this article, we will delve into the world of new base layouts and cutting-edge designs that will revolutionize your Builder Hall 8 experience.
Understanding the Builder Hall 8 (BB2.0) Meta
Builder Hall 8 is a crucial milestone for any dedicated Clash of Clans player, where the gameplay becomes more intense, and strategic planning is the key to success. As the game evolves, so does the meta, and staying updated with the latest base layouts becomes essential. At Copycocbases, we continuously analyze gameplay data and test new strategies to develop innovative base designs that adapt to the ever-changing meta.
The Importance of an Effective Base Layout
An effective base layout can make all the difference in Clash of Clans. It determines how well your defenses can withstand enemy attacks, protect your resources, and ultimately secure victory in Versus Battles. Our team of expert gamers and base builders meticulously craft layouts that address various attack strategies, including ground assaults, air raids, and hybrid attacks. With our base designs, you can defend against the most formidable opponents and rise through the ranks of Builder Hall 8.
Advantages of Copycocbases' New Base Layouts
Anti-3 Star Designs: Our base layouts are strategically built to thwart even the most determined attackers from achieving a 3-star victory. By concentrating on compartmentalization, defense placement, and trap positioning, our designs force attackers to divert their forces, reducing their offensive potential.
Resource Protection: Resources are the lifeblood of any Clash of Clans player. Our new base layouts prioritize protecting your elixir, gold, and other valuable resources, making it harder for attackers to loot your hard-earned wealth.
Flexibility and Adaptability: The meta is constantly evolving, and what works today may not be as effective tomorrow. Our base layouts are designed to be flexible, allowing you to easily tweak and adapt your defenses based on the latest strategies and troop compositions.
Showcasing Our Top New Base Layouts
The Fortified Citadel: This design emphasizes a robust core with overlapping defenses, discouraging attackers from breaching deep into your base. The exterior defenses complement each other, making it challenging for opponents to exploit weak spots.
The Sky Fortress: Built to counter air-based attacks, this layout maximizes air defense coverage while maintaining sufficient ground defenses to deter ground units. The strategic placement of air bombs and seeking air mines adds another layer of protection against air raids.
The Resource Guardian: With a primary focus on resource protection, this layout strategically positions storages and defensive structures, making it difficult for attackers to get to your precious resources without considerable losses.
At Copycocbases, we understand that merely having a great base layout is not enough. We also provide detailed step-by-step building guides to help you construct your chosen base design flawlessly. Our guides cover everything from building placement to trap positioning, ensuring that you can recreate the layout with ease.
We value our users' opinions and encourage them to engage with our community. Users can submit their own base designs, share their experiences, and provide feedback on the existing base layouts. Our dedicated team of moderators actively monitors the community, ensuring a positive and helpful environment for all Clashers.
In conclusion, Copycocbases is committed to providing the Clash of Clans community with the most effective and innovative BH8 bases. With our new designs, you can strengthen your defenses, protect your resources, and rise to the top of the Builder Hall 8 leaderboard. Embrace the power of strategy and let Copycocbases be your trusted ally in the journey to Clash of Clans supremacy!
Table of Contents
Builder-Hall 8 Base (BB2.0) (BH8 Base) – 1
Builder-Hall 8 Base (BB2.0) (BH8 Base) – 2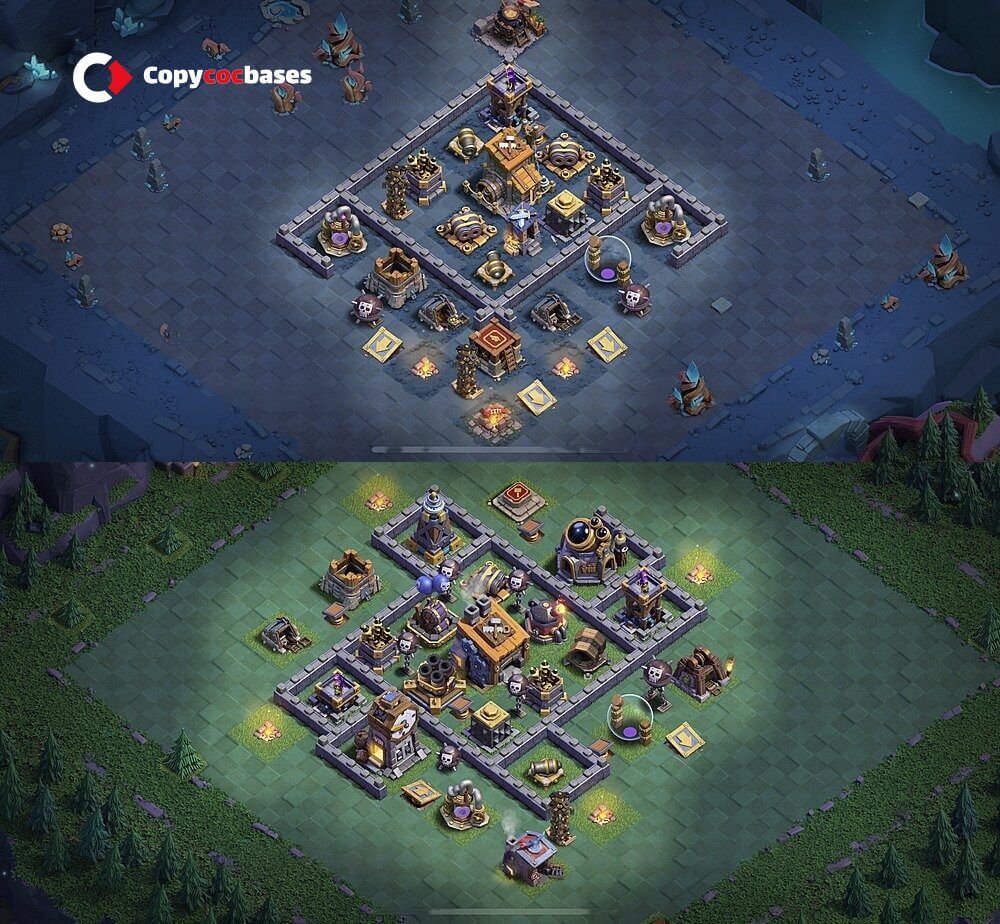 Builder-Hall 8 Base (BB2.0) (BH8 Base) – 3
Builder-Hall 8 Base (BB2.0) (BH8 Base) – 4
Builder-Hall 8 Base (BB2.0) (BH8 Base) – 5
Builder-Hall 8 Base (BB2.0) (BH8 Base) – 6
Builder-Hall 8 Base (BB2.0) (BH8 Base) – 7
Builder-Hall 8 Base (BB2.0) (BH8 Base) – 8
Builder-Hall 8 Base (BB2.0) (BH8 Base) – 9
Builder-Hall 8 Base (BB2.0) (BH8 Bases) – 10
Builder-Hall 8 Base (BB2.0) (BH8 Bases) – 11
Builder-Hall 8 Base (BB2.0) (BH8 Bases) – 12
Builder-Hall 8 Base (BB2.0) (BH8 Bases) – 13