"TH4 War Base Meta – Strong Defense Strategy for Clash of Clans"
In the realm of the Clash of Clans, victory is not merely determined by brute force or individual skill; it is a strategic symphony that requires careful planning and execution. The backbone of any successful clan lies in its ability to defend against enemy attacks during clan wars. This is where Copycocbases comes into play, offering a treasure trove of knowledge and expertise in the form of top-tier TH4 war base layouts. With our arsenal of proven strategies and meticulous designs, we aim to empower clans and individuals alike to triumph on the battlefield.
War is not just a game mode in Clash of Clans; it is the ultimate test of a clan's strength, coordination, and strategic prowess. Engaging in wars provides a myriad of benefits, such as clan bonding, loot acquisition, and reputation enhancement. However, it is during these intense battles that the true essence of the game unfolds.
War breeds collaboration, encouraging members to communicate, plan, and coordinate their attacks and defenses. The synergy that arises from such teamwork is invaluable, creating a sense of camaraderie and unity within the clan. Furthermore, participating in wars presents an opportunity for clans to showcase their skills, earn recognition, and climb the ranks of the global leaderboard.
To emerge victorious, a strong defense is crucial. This is where war base layouts come into play, forming the backbone of a successful defense strategy. A well-designed war base can effectively thwart enemy assaults, forcing them to waste precious troops and time. It is the first line of defense, and a formidable war base can significantly tilt the odds in favor of the defending clan.
War base design is an art that requires a deep understanding of game mechanics, troop behavior, and attack strategies. A successful war base layout must strike a delicate balance between offense and defense, ensuring maximum defensive potential while minimizing vulnerabilities.
Copycocbases recognizes the significance of war design and offers a curated collection of top Town Hall 4 war base layouts. These layouts are meticulously crafted to withstand a variety of attack strategies, including air assaults, ground-based armies, and hybrid combinations. They are designed to exploit the strengths of the Town Hall 4 defenses while leveraging the unique capabilities of the available defensive structures.
In crafting these layouts, factors such as compartmentalization, pathing, and trap placement are given careful consideration. Compartmentalization involves dividing the base into distinct sections to restrict troop movement, making it harder for attackers to penetrate deeper into the base. Effective pathing ensures that enemy troops are led through defensive structures and traps, maximizing their exposure to damage.
Trap placement is another crucial aspect of war base design. Well-positioned traps can devastate enemy armies, weakening their assault and providing the defending clan with a significant advantage. Copycocbases provides detailed explanations of trap placement and their impact on various troop compositions, allowing clans to make informed decisions when designing their war bases.
Copycocbases specializes in Town Hall 4 war bases, recognizing the importance of providing tailored strategies and layouts for every Town Hall level. The Town Hall 4 stage is a critical milestone in Clash of Clans, as players begin to explore the intricacies of war and strategic base design. Our curated selection of Town Hall 4 war base layouts takes into account the limitations and defensive capabilities of this level, ensuring an optimal balance of defense and resource protection.
These layouts are designed to counter common attack strategies at Town Hall 4, such as Giant-Healerarmies, Mass Archer armies, and Balloon armies. They incorporate effective funneling techniques, strong defensive structures, and strategic trap placement to dismantle enemy assaults. Copycocbases provides detailed explanations and visuals for each layout, guiding clans and individuals in implementing these designs effectively.
In the realm of Clash of Clans, war is the ultimate test of skill, strategy, and teamwork. Copycocbases serves as a beacon of knowledge and expertise, offering top Town Hall 4 war base layouts to empower clans and individuals in their pursuit of victory. War is not just about attacking; it is about fortifying your defenses and creating impenetrable strongholds.
With our meticulously crafted designs and comprehensive explanations, clans can gain a deeper understanding of war base design principles. Compartmentalization, pathing, and trap placement are the pillars upon which our layouts are built, ensuring maximum defensive potential.
At Town Hall 4, where players begin to explore the intricacies of war, our curated selection of war base layouts is tailored to counter common attack strategies and protect valuable resources. By implementing these layouts and strategies, clans can elevate their defensive capabilities and forge a path towards victory in clan wars.
Copycocbases is committed to providing the Clash of Clans community with the tools and knowledge needed to excel in the art of war. Our dedication to excellence and strategic innovation ensures that clans can conquer the battlefield and achieve greatness.
Click to : TH4 Attack Strategy
So, embark on this journey with Copycocbases, and let us guide you towards triumph on the virtual battlefield of Clash of Clans. Master the art of war and witness the transformative power of strategic base design. Victory awaits those who dare to rise above the challenges and embrace the true essence of Clash of Clans.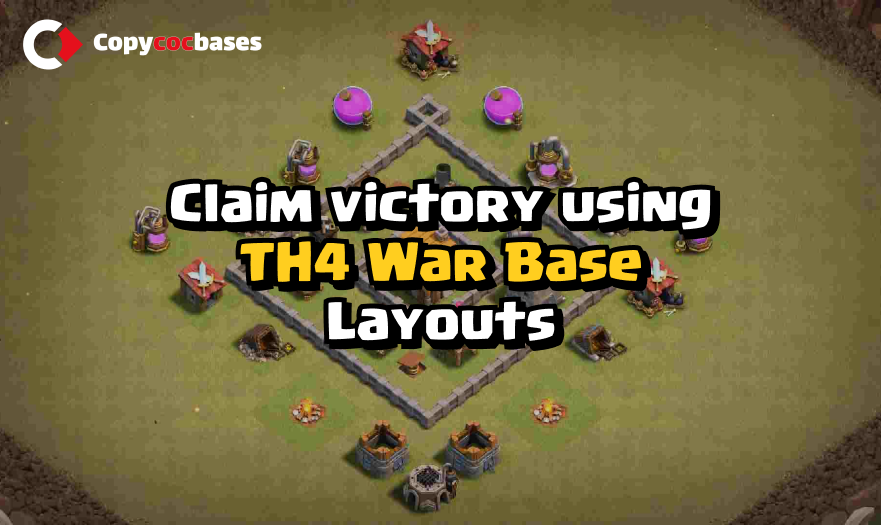 Table of Contents
Click to : TH4 Artistic Base
Town-hall 4 War Base (Th4 War Base) – 1
Excellent layout for Town Hall 4; this base features a completely centered Clan Castle that is sure to slow down the enemy. The 3 main compartments will be slinging arrows, mortar shells and cannonballs at the enemy as they circle around the perimeter. Tip – request a Baby Dragon for this layout! The splash attack will demolish packs of Balloons in seconds! 🚫🎈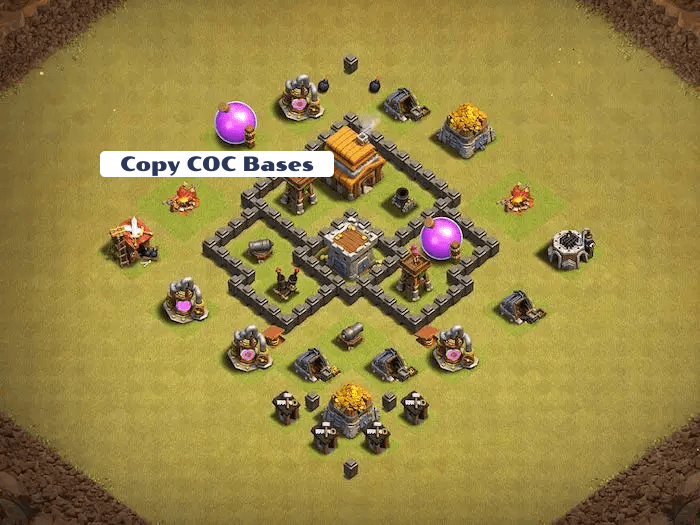 Town-hall 4 War Base (Th4 War Base) – 2
The exposed storages on this Town Hall 4 base act as a high HP defensive distraction! While the enemy is slowly chipping away at the Gold and Elixir storages, your defenses and defending Clan Castle troops will be uninterrupted. Not to mention the troll Barracks on the west end 😈. Solid base for Clan War!
Town-hall 4 War Base (Th4 War Base) – 3
This anti-3 Town Hall 4 war base occupies a big amount of real estate on the map. That makes sniping core defenses much more challenging for your opponent. Also doubles up as a TH4 trophy pushing base, when banking your loot isn't a big concern.
Town-hall 4 War Base (Th4 War Base) – 4
This quad-compartment Town Hall 4 war base provides great defense against melee troops such as Barbarians and Giants. The Town Hall is centrally located, which makes for a tougher 2 or 3 star attack.
Town-hall 4 War Base (Th4 War Base) – 5
Pro Anti-3 & anti-Giant war base for Town Hall 4. The asymmetrical design makes pathing unpredictable. If ground troops find themselves reaching the core, the strategically placed Spring Traps will send them flying! 💨💨
Town-hall 4 War Base (Th4 War Base) – 6
Pro Town Hall 4 anti-air war base. Asymmetric design with two very powerful compartments, your enemies will have a tough time predicting the pathing on this layout!
Town-hall 4 War Base (Th4 War Base) – 7
4 exposed storages give all of your defenses walled-off protection. Utilizing a big portion of the map, this TH 4 anti-3 war base provides a well-rounded defense against both ground and air attacks.
Town-hall 4 War Base (Th4 War Base) – 8
Triple compartment anti-3 Town Hall 4 war base. All defenses are protected within walls, with the high HP storages located at important positions on the map! The attacking enemy will likely become distracted with the storages while your defense and Clan Castle troops reign down! Give this base a try if you're in Clan War!
Town-hall 4 War Base (Th4 War Base) – 9
Pro anti-3 war base for Town Hall 4! While your Town Hall is exposed for the relatively easy 1-star, attackers will have to earn the remaining 2 stars! 3 wall openings guide ground troops into a plethora of Traps and Defenses to wipe them out early. 1 Giant and 1 Baby Dragon are recommended on defense. The Giant to tank and distract enemies, while the Baby Dragon deals out devastating splash damage from the skies.
Town-hall 4 War Base (Th4 War Base) – 10
Anti-3 base designed to spring away ground troops right into the Builder Base! The two main 'openings' aggro ground troops into Spring Traps, followed by a pair of Bombs. with your centrally-located Clan Castle, you're bound to get 360 degrees of protection for the entirety of the match. Not to mention the corner builder huts (couldn't fit them in the screenshot… sorry about that! 😂) to further spoil unprepared attacks… 😎
Town-hall 4 War Base (Th4 War Base) – 11
Troll Spring openings on this Town Hall 4 war base are bound to spoil ground attacks! While it may look like your Town Hall is an easy snipe, the defending Mortar, Cannons, Archer Tower and Clan Castle will CERTAINLY say otherwise. 3 Giants are recommended on defense to provide plenty of tanking HP.
Town-hall 4 War Base (Th4 War Base) – 12
Pro-style anti-2 war base for Town Hall 4. Four asymmetrical compartments hold all of your defenses, while safeguarding your Town Hall and Clan Castle. For attackers that think they can easily snipe the Town Hall on the south end… a pair of Spring Traps and Bombs will say otherwise! Excellent war base to try in Clan War.
Town-hall 4 War Base (Th4 War Base) – 13
This base is a variation of a farming base seen above ⬆️⬆️ in Clash Fanatic App. But this base brings attention to protecting your trophies in Clan War, instead of saving your loot. With most of your defenses within walls, troops that aggro around the perimeter are going to be pummeled by your Cannons, Archer Towers, Mortar and Air Defense. We recommend 5 Barbarians and 1 Baby Dragon on defense. Try this one today!
Town-hall 4 War Base (Th4 War Base) – 14
Two massive Archer Tower Islands at Town Hall 4! This very unique base is designed to aggro troops around the perimeter in Clan War, while your Archer Towers ferociously sling arrows at attacking troops. 5 Barbarians and 10 Archers are recommended on defense to distract your enemy while your Archer Towers stay nice and damage-free. Try this one in Clan War! 🎯