Best Strategies From the Top-Rated TH9 Hybrid Base for 2023 – Latest Updates Included for Unbeatable Performance!
Welcome to our exclusive blog page, where we proudly present the Clash of Clans base designs: Best Strategies From the Top-Rated TH9 Hybrid Base for 2023. Optimize your strategies with the best TH9 hybrid base layouts, with the latest updates included for unbeatable performance in both attack and defense.
Our expert team's successful TH9 hybrid base should maintain a balance between protecting your resources and defending your Town Hall. Strategically position defensive structures, such as Archer Towers, Cannons, Wizard Towers, and Air Defenses, to cover all angles of attack.
Our blog page features creating compartments using walls to divide your base into sections. This slows down enemy troops, making it harder for them to reach your resources and Town Hall. Utilize double-trap placement to surprise and eliminate enemy troops. By placing two or more traps close together, you can deal significant damage to groups of attackers.
Join us on this exhilarating journey with the prevalence of air attacks in higher Town Hall levels, ensuring your Seeking Air Mines are strategically placed to counter enemy air units. Spread out your Air Defenses to cover a wide area and have overlapping coverage.

With our latest updates, you'll always have access to the most powerful and innovative TH9 hybrid base layouts, ensuring unbeatable performance in both defense and offense. Whether you're a seasoned veteran or a new player just starting out, our Town Hall 9 hybrid base layouts will help you optimize your clash strategies and dominate your opponents!
Brace yourself for upgrading and walls prioritize to higher to heroes, and walls increase their durability and slow down enemy troops. upgrading Strengthen defensive structures, your defense by upgrading these structures base's overall levels.
Table of Contents
Click to : TH9 Artistic Base
Town-hall 9 Hybrid Base (Th9 Hybrid Base) – 1
Utilizing most of the base to safeguard your Trophy count and Loot, this pro-style base is one you shouldn't sleep on!! The entire west end of the base is intended to distract ground troops by walking along the walls, while the entire east end will lay down plenty of defending firepower to obliterate enemies.
Town-hall 9 Hybrid Base (Th9 Hybrid Base) – 2
Pro-style Hybrid at Town Hall 9. This base will not only protect your Loot, but you'll also be racking up the defensive wins! Watch your Cup count rise while you farm for your next big upgrade! This base should DEFINITELY be a part of your defensive deck of layouts.
Town-hall 9 Hybrid Base (Th9 Hybrid Base) – 3
With your Loot Storages so far apart, snipers won't have it easy if they're looking for a quick grab. The Town Hall core & surrounding ring is nothing but defense to keep your Town Hall unharmed in battle.
Town-hall 9 Hybrid Base (Th9 Hybrid Base) – 4
Utilizing a majority of the base, this Town Hall 9 Hybrid is well-rounded against both Ground & Air attacks. The core features a Tesla Farm & your two Royals to protect your Town Hall & Loot. Centrally-located Clan Castle provides nice & even coverage for your defending troops!
Town-hall 9 Hybrid Base (Th9 Hybrid Base) – 5
This base will perform as good as it looks when it comes to defending your Cups & Loot! Each compartment has strategically-placed defenses and Traps to ward away ground & air attacks. We recommend a Dragon in your Clan Castle for this layout!
Town-hall 9 Hybrid Base (Th9 Hybrid Base) – 6
The Town Hall 9 Hybrid your clan mates will DEFINITELY want you to share!!! While outer trash buildings are somewhat easy to snipe, hitting the Loot & Town Hall core won't be an easy task. This Hybrid can certainly double-up as an Anti-2 for Clan War. Regardless… it's 100% worthy of taking up a Map slot in your deck of layouts. Give it a shot!
Town-hall 9 Hybrid Base (Th9 Hybrid Base) – 7
Well-rounded Hybrid at Town Hall 9. This base has characteristics to help defend your💰& 🏆 from both Air and Ground attacks. This is because the defending firepower is evenly distributed across several compartments, making this base VERY tricky to plan an attack for.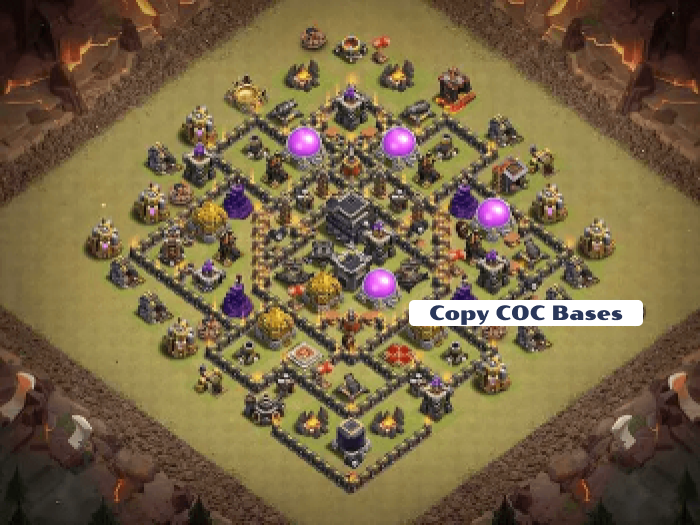 Town-hall 9 Hybrid Base (Th9 Hybrid Base) – 8
Each of your 9 storages are housed in their own compartment in this TH9 Hybrid. With the Town Hall smack dab in the center, you're bound to protect your Loot & Cup count. This base can certainly triple-up as a great Anti-2 Clan War contender. Worth trying for at least a week!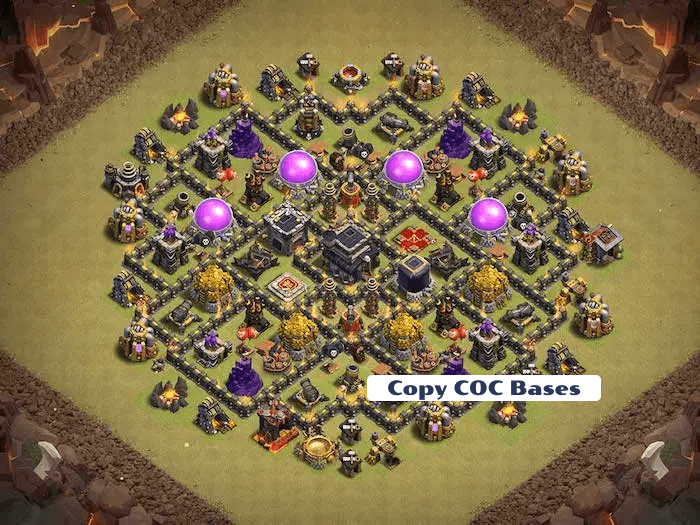 Town-hall 9 Hybrid Base (Th9 Hybrid Base) – 9
Flower Power! 🌼 9 LOADED compartments on this Town Hall 9 Hybrid will pose a tricky time for any attacker. With each of your Storages guarded by Walls in their own compartment, your Loot count & Cups will stay nice and protected.
Town-hall 9 Hybrid Base (Th9 Hybrid Base) – 10
Hybrid cyclone of destruction! 🌀 This spiral base first trips up your opponent with those 4 openings defended with Spring Traps. Once any attacking troop makes it past the Traps, they will begin slowly circling around the base while getting pummeled by core Defenses. Clan War League contender for Anti-2 as well! Can we say versatile!?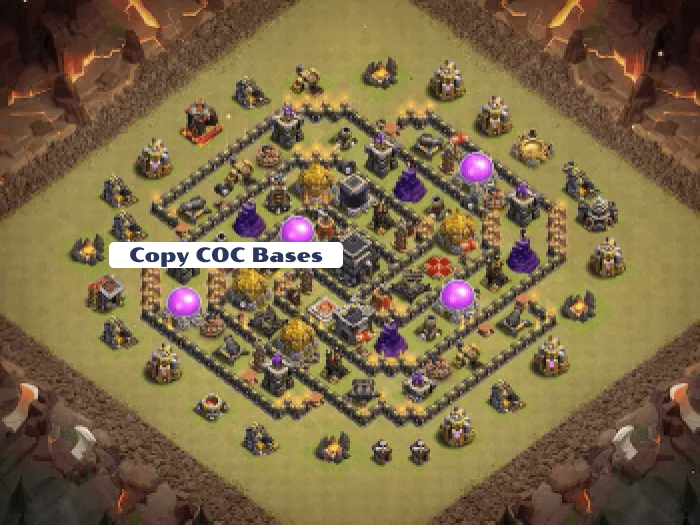 Town-hall 9 Hybrid Base (Th9 Hybrid Base) – 11
This base may look like a 4-leaf clover, but there will be nothing lucky about your enemies' attacks! 5 HEFTY compartments safeguard your storages, with their plethora of hidden Traps, Bombs and defenses. Note that almost every non-defense building is pushed to the outside, leaving nothing but firepower protected within your walls! Excellent for both trophy pushing and farming.. See for yourself!
Town-hall 9 Hybrid Base (Th9 Hybrid Base) – 12
Compartments galore on this TH 9 hybrid base! Whoever attacks this base will NOT have an easy time reaching all of your storages. By distributing 2 storages each in their own compartment, (and sandwiched by defenses,) your loot will be nice and cushioned. Not to mention the core of this base has your Clan Castle completely centered, with dual X-Bows protecting your Town Hall. Great pick if you're trying to trophy push and farm loot for your next big upgrade!
Town-hall 9 Hybrid Base (Th9 Hybrid Base) – 13
Admittedly, we designed this base to be slightly more war-friendly than farm-friendly. This is due to the Anti-3 nature of the Town Hall compartment. With that being said.. this base doesn't skimp on providing all-around protection! With most of your storages deep within the core of this base, there will be zero easy loot sniping. Expect to retain your trophy count during your bedtime, and wake up to several victories in the defense column!