10+ Best BH7 Bases With Outpost Base + links (2023)
In the thrilling realm of Clash of Clans, Builder Hall 7 has proven to be a pivotal stage for gamer seeking to dominate the competition. As every seasoned player knows, a well-crafted base layout is the foundation of a successful defense strategy. Welcome to CopyCoCBases, your ultimate destination for cutting-edge, top-list BH7 bases, revolutionizing the art of base designing with our unique outpost concepts.
Builder Hall 7 is a pivotal stage in Clash of Clans, where players gain access to new defenses, buildings, and troop upgrades. The challenge is real, and the competition is fierce. In this demanding environment, a solid base layout is crucial to protect resources, thwart enemy attacks, and secure victory on the battlefield.
A well-constructed base layout serves as a deterrent against raids and forces opponents to think twice before attempting an attack. Players at Builder Hall 7 require innovative designs that can adapt to the evolving meta and counter diverse strategies employed by adversaries. That's where CopyCoCBases steps in with its expertise and cutting-edge designs.
CopyCoCBases is a leading platform specializing in providing top-tier BH7 base layouts for Clash of Clans players worldwide. Our team of skilled gamers, strategists, and base designers work tirelessly to craft the most effective and efficient base layouts that have been extensively tested and proven successful against various attack tactics.
At CopyCoCBases, we pride ourselves on innovation, and that's why we have developed a unique concept known as "Outpost Design." This innovative approach redefines the conventional base layout by adding strategically positioned outposts that bolster defense and disrupt enemy attack patterns.
Outposts are auxiliary defense structures placed strategically around the main base to enhance overall defense capabilities. These structures not only deal damage to enemy troops but also divert their path, making it challenging for attackers to breach the core. This unique concept has shown remarkable results in repelling even the most daunting raids.
At CopyCoCBases, we understand that each player has their own style and preference. Our platform offers a wide array of base layouts, including Outpost Designs, to cater to different playstyles. Whether you prefer a centralized layout or an open design, our collection has something for everyone.
Our team of experienced players continuously evaluates and updates the top-list base layouts for Builder Hall 8. These layouts are thoroughly analyzed to ensure they are optimized for maximum protection while remaining flexible enough to adapt to the dynamic Clash of Clans meta.
CopyCoCBases not only provides you with pre-built base layouts but also offers a comprehensive step-by-step base building guide. This guide walks you through the process of constructing your preferred base layout and explains the rationale behind each decision, empowering you to become a formidable base designer yourself.
We encourage community engagement and user-generated content at CopyCoCBases. Players can submit their innovative base layouts, including Outpost Designs, for evaluation and potential inclusion in our top-lists. This fosters a collaborative environment where players can learn from each other and contribute to the collective growth of the Clash of Clans community.
CopyCoCBases upholds the principles of fair play and sportsmanship within the Clash of Clans community. Our base layouts are designed to provide effective defense without resorting to exploits or unfair practices, promoting a healthy gaming environment for all players.
Click to : BH7 Regular Base
In conclusion, CopyCoCBases is your one-stop destination for the most advanced and ingenious BH7 base layouts in Clash of Clans. With our revolutionary Outpost Design concept and a dedication to excellence, we aim to empower players with the tools and knowledge needed to conquer the Builder Base arena. Join us today and experience the thrill of unmatched defense and strategic brilliance! Clash on!
Table of Contents
Builder-Hall 7 Base (BB2.0) (BH7 Base) – 1
Builder-Hall 7 Base (BB2.0) (BH7 Base) – 2
Builder-Hall 7 Base (BB2.0) (BH7 Base) – 3
Builder-Hall 7 Base (BB2.0) (BH7 Base) – 4
Builder-Hall 7 Base (BB2.0) (BH7 Base) – 5
Builder-Hall 7 Base (BB2.0) (BH7 Base) – 6
Builder-Hall 7 Base (BB2.0) (BH7 Base) – 7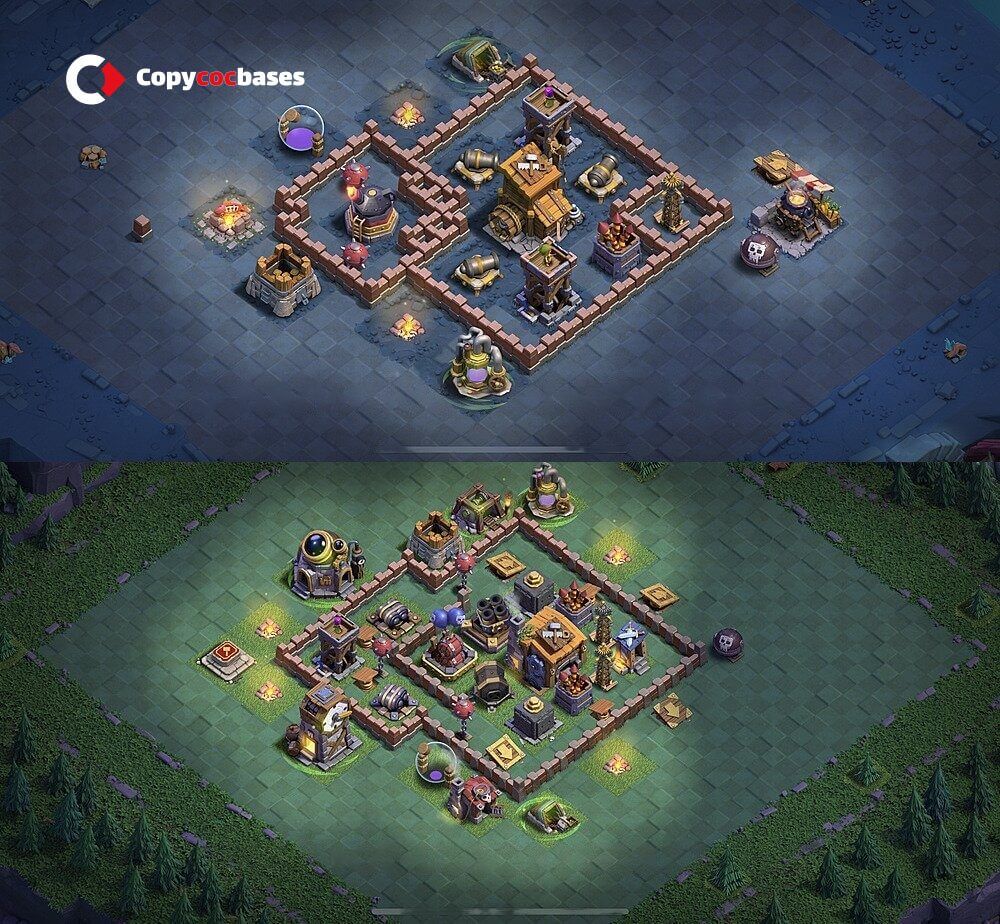 Builder-Hall 7 Base (BB2.0) (BH7 Base) – 8
Builder-Hall 7 Base (BB2.0) (BH7 Base) – 9
Builder-Hall 7 Base (BB2.0) (BH7 Bases) – 10
Builder-Hall 7 Base (BB2.0) (BH7 Bases) – 11
Builder-Hall 7 Base (BB2.0) (BH7 Bases) – 12
Builder-Hall 7 Base (BB2.0) (BH7 Bases) – 13