Discover the Beauty of TH9 Artistic Base: A Guide to Lovely Bases – Latest Updates Included for Unbeatable Performance!
Are you looking to discover the beauty resources in Clash of Clans? Our blog page is the ultimate resource for the best TH9 artistic base layouts, with the latest updates included for unbeatable efficiency in gathering resources.
Our expert team has carefully analyzed and tested the base design focusing on creating a compact and heavily fortified layout that is difficult for attackers to penetrate. It often features a centralized Town Hall surrounded by strong defenses and compartmentalized sections, making it challenging for troops to reach the core. This base design emphasizes the defense and protection of resources.
Our blog page features a detailed Flower Base design that takes inspiration from nature, creating a visually pleasing layout that resembles a flower or a geometric pattern. It often incorporates symmetrical and balanced structures, including defenses and walls, arranged in a circular or radial pattern. This base design aims to confuse attackers and guide them into well-placed traps and defensive structures.
The Island Base design places the Town Hall on a separate island or elevated platform, isolated from the rest of the base. This design forces attackers to use jump spells or Siege Machines to reach the TH9 artistic dealing with defenses on the main base. The Island Base design emphasizes the strategic placement of defenses to protect the core and key structures.
With our latest updates, base designs can vary in effectiveness depending on the attacking strategies and the specific strengths and weaknesses of your base. It is important to adapt these designs to your own playstyle, base layout, and the current metagame. Experiment with different designs, test them in friendly challenges or clan wars, and make adjustments based on the results to create a top-rated TH9 artistic base that suits your needs.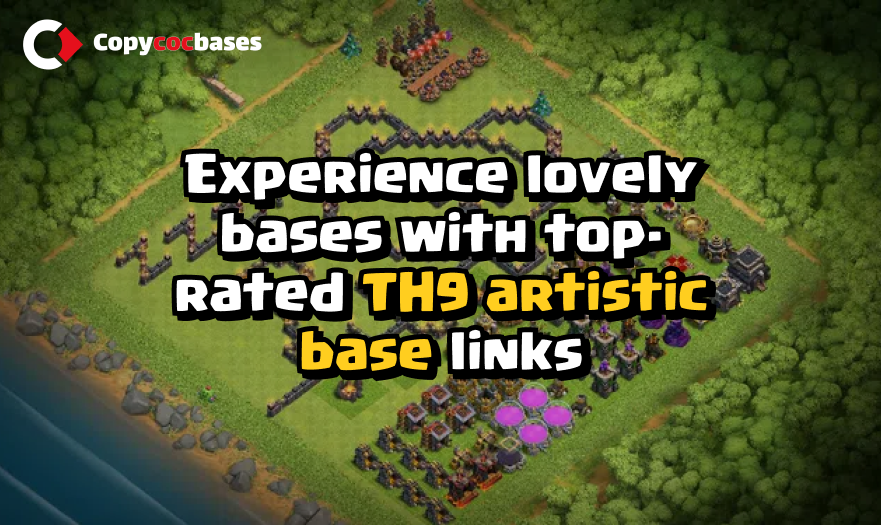 Table of Contents
Click to : TH9 War Base
Town-hall 9 Artistic Base (Th9 Artistic Base) – 1
A Town Hall 9 artistic base that's full of love! ❤️Town Hall 9 artistic base that radiates love. At its core lies a heart-shaped arrangement of defenses, symbolizing the strong love and protection for your resources. The base is surrounded by beautifully designed walls, meticulously shaped to resemble interlocking hearts. Aesthetically pleasing decorations, such as flowers and statues, adorn the base, adding a touch of romance. Hidden traps and strategically placed defenses ensure the base is as strong as it is lovely.
Town-hall 9 Artistic Base (Th9 Artistic Base) – 2
PLEASE HELP ME PUSH TO LEGEND…' Hey… If you don't ask, you'll never receive it! 😉"To push to Legend League as a Town Hall 9, prioritize upgrading key defenses like Archer Queen and X-Bows. Utilize strategic troop compositions like Queen Walks or LaLoon attacks. Aim for high-value two-star attacks to earn trophies consistently. Optimize your base for defense and protection of key structures. Dedication, skill, and persistence are vital to reaching the prestigious Legend League at Town Hall 9.
Town-hall 9 Artistic Base (Th9 Artistic Base) – 3
U MAD!? This is a TROLL base in more ways than 1! All of your storages and collectors are sandwiched between defenses. Easy loot for your opponent? Nope.. Trolled!
Town-hall 9 Artistic Base (Th9 Artistic Base) – 4
Because who doesn't love the Baby Dragon! The Baby Dragon is a beloved troop in Clash of Clans. Its adorable appearance and versatile abilities make it a favorite among players. With its splash damage, ranged attack, and ability to fly, the Baby Dragon can wreak havoc on enemy bases. It's hard not to love this fierce yet charming little dragon!
Town-hall 9 Artistic Base (Th9 Artistic Base) – 5
BOO!!! Great base to use around Halloween! 👻"The Haunted Citadel" is a spooky Town Hall 9 base perfect for Halloween. Decorated with eerie gravestones, cobwebs, and glowing pumpkins, it strikes fear into the hearts of attackers. Cleverly designed traps and defenses will ensure a chillingly effective defense against those who dare to challenge it.
Town-hall 9 Artistic Base (Th9 Artistic Base) – 6
Dragon base. Baby Dragon? Dragon? Electro Dragon? Dragon Rider? Well, that's up to you to decide. 🐉"Dragonic Domination" is a fearsome Town Hall 9 base centered around dragons. The core features a majestic dragon statue, representing power and dominance. Surrounding defenses provide a formidable shield. Baby Dragons, Electro Dragons, and Dragon Riders roam the base, ready to unleash devastation upon attackers. The combination of aerial assaults and ground forces creates a deadly synergy. Prepare for an inferno of fire and fury with this dragon-themed base.
Town-hall 9 Artistic Base (Th9 Artistic Base) – 7
Barbarian King sword base for Town Hall 9! "The Sword's Citadel" is a Town Hall 9 base inspired by the mighty Barbarian King. Its layout is designed to resemble a sword, symbolizing strength and valor. Strategically placed defenses protect the core, while traps surprise attackers. With the Barbarian King as your guardian, victory shall be forged within this formidable stronghold.
Town-hall 9 Artistic Base (Th9 Artistic Base) – 8
🐟Here, fishy fishy fishy!🐟 TH9 base that lures attackers like fish with its underwater-themed design. Defenses masquerade as coral reefs, while hidden traps strike like predatory sea creatures. Dive into victory with this enticing aquatic base.