Top TH9 War Base Layouts of 2023: Secure Your Village, Unveiling the Top 13+Rated Latest Updated Town Hall 9
Look no further than our selection of top-rated TH9 war bases! These meticulously designed bases have been carefully crafted to give you the upper hand on the battlefield, ensuring victory even in the most challenging wars.
Our expert team has diligently scoured the realms of the game to discover the most powerful and innovative base designs available. Each layout has undergone thorough analysis, with our team meticulously assessing their individual strengths and weaknesses. To ensure maximum defense capabilities, we have extensively tested each design against a variety of attack strategies and fine-tuned them for optimal performance.
On our blog page, you'll find detailed descriptions and high-quality images accompanying each base layout, providing you with a comprehensive understanding of the strategic placement of defensive structures, traps, and defensive units. These visual aids allow you to visualize the intricacies of each layout and how they contribute to their overall effectiveness. Rest assured that our team has rigorously tested these layouts against a multitude of attack strategies, ensuring their resilience and effectiveness in defending your village.
Whether you possess the battle-hardened experience of a seasoned war veteran or are just embarking on your TH9 journey, our selection of top war base layouts caters to all. These meticulously crafted layouts bring together the perfect blend of defensive strength, strategic positioning, and clever trap placement to deter attackers and safeguard your precious resources.
With our guidance and these exceptional base designs, you'll gain the upper hand in battles, empowering you to lead your clan to resounding victories time and time again. Prepare to rise above the competition and establish your dominance on the battlefield with our top-rated TH9 war base layouts.
Table of Contents
Click to : TH9 Progress Base
Town-hall 9 War Base (Th9 War Base) – 1
Compartment-heavy beast of a Town Hall 9 war base. This base puts heavy protection around your centrally-placed Town Hall with massive islands, including two dual Wizard Towers islands. SPLASH BROS FOR LIFE! Not to mention this base takes up a HUGE portion of available real estate to make enemy attacks much less time-efficient. We recommend Witches in your Clan Castle to help further distract!
Town-hall 9 War Base (Th9 War Base) – 2
Wide-style war base for Town Hall 9. This base takes inspiration from some of the big-brother Clan War bases at higher Town Hall levels. With a centrally-located Clan Castle and Royals, coupled with the tough-to-predict layout style, attackers certainly won't have an easy time clearing this layout! We recommend Witches / Ice Golems in your Clan Castle to help slow down the enemy attack even more.
Town-hall 9 War Base (Th9 War Base) – 3
This is a Town Hall 9 war base that performs just as good as it looks! With 4 main outer-compartments and your Town Hall tucked-away in the center compartment, attackers are going to have to work hard for every earned star. Each of the 4 main outer compartments are wide-style with no shortage of defenses, Bombs and Traps for ground attacks. Air attackers will need to deal with the 4 tightly packed Air Defenses and two out-ward facing Air Sweepers before even thinking about getting to your Town Hall!
Town-hall 9 War Base (Th9 War Base) – 4
How big can bases get at Town Hall 9?! Well… you're looking at it! The sheer size of this base ensures Valkyrie and Bowler attacks are far less than efficient. With a COMPLETELY centered Clan Castle, enemies will STRUGGLE getting a full Clan Castle lure… and that's GREAT for you and BAD for them!!
Town-hall 9 War Base (Th9 War Base) – 5
Tightly-packed Town Hall 9 war base with plenty of goodies to spice things up. Air troops will have to deal with the tightly-packed Air Defenses and outward-facing Air Sweepers. Ground troops will need to navigate throughout all of the compartments while avoiding the Spring Traps and Bombs. Spoiler alert… they probably won't 😉. Excellent base to use in Clan War League due to how centered and protected your Town Hall is.
Town-hall 9 War Base (Th9 War Base) – 6
Two ENORMOUS X-Bow Islands will help defend against the Clan War Triple. With slightly more emphasis on Anti-Air, this base will still cause frustration for ground attackers. Pathing is difficult to predict in this layout, specifically designed for CW & CWL. Give it a shot!
Town-hall 9 War Base (Th9 War Base) – 7
Slightly more compact & symmetrical, but don't let that fool you! This Town Hall 9 War Base is tougher and more deceiving than it may look. Ground troops are pathed right towards Traps & Bombs no matter where they may enter from. With a centrally-located Clan Castle, you're going to get even coverage for your defending troops. We recommend 1 Baby Dragon & Wizards for splash damage!
Town-hall 9 War Base (Th9 War Base) – 8
Pro-style anti-2 War base. 4 Islands will lay down destruction while attackers get aggroed around the perimeter. The unsuspecting Tesla Farm in the core & defending Clan Castle troops will help keep attackers away from your Town Hall. Witches in the Clan Castle are recommended, to only add to the distractions that this base will cause. 😈
Town-hall 9 War Base (Th9 War Base) – 9
Finding an entry line for this base will surely be tricky, no matter Ground or Air. Carefully placed Spring Traps & Bombs will help ward away the Triple. EIGHT Storages will provide an enormous amount of HP distraction to keep attackers away from your Town Hall.
Town-hall 9 War Base (Th9 War Base) – 10
Enormous X-Bow Islands, Tesla Farm, Giant Bomb openings & difficult pathing. What more could you want from a Town Hall 9 War Base?! Strategically placed & positioned Air Defenses & Air Sweepers will make this base a nightmare for Dragon & Balloon attacks. If an enemy gets to the core, the Tesla Farm will help zap away any possibilities of a 3-star attack. We DEFINITELY recommend this one!!!
Town-hall 9 War Base (Th9 War Base) – 11
A well-rounded Town Hall 9 Anti-2. Plenty of defense-heavy compartments make this a tricky base to hit for unsuspecting attackers. The north-end Storage farm is defended by two Archer Towers. This means no easy snipe. Attackers may find themselves running out of time for a 3-star if they save all that HP for last!
Town-hall 9 War Base (Th9 War Base) – 12
Asymmetrical beast of a Town Hall 9 War base. Predicting the pathing won't be easy for your attacker, nor will it likely be accurate! Well-rounded to fend off both ground and air troops. For this base, we recommend a Lava Hound on defense.
Town-hall 9 War Base (Th9 War Base) – 13
Asymmetrical Anti-3 TH9 War Base. The west end of the base is weak on defense, but we can't say the same about the east end!! A plethora of Traps, Bombs, Teslas and Defenses to slow down even the toughest Town Hall 9 attacks.
Town-hall 9 War Base (Th9 War Base) – 14
Pro-style Anti-3. This one has all of the characteristics of a tough-to-triple base layout. Between the asymmetrical design, Storage farms, X-Bow Islands, and wide style design, don't expect any easy 3-stars! Fantastic layout for Clan War League.
Town-hall 9 War Base (Th9 War Base) – 15
An absolute UNIT of an Anti-3! Why you may ask? Take a look at that south-end compartment. One visible X-Bow, Sweeper & Archer Tower. The rest… all hidden! Tesla Farm, Giant Bombs, Mini Bombs, Skeleton Traps & Air Bombs. This compartment is bound to spoil even the most-planned attacks! MUST USE for Clan War.
Town-hall 9 War Base (Th9 War Base) – 16
With a centrally-located Clan Castle, Archer Queen & Tesla Farm, this base layout is all but an easy triple. Plenty of defense-heavy compartments to chip away at the enemies army. The enemy better hope they brought enough Jump Spells to make it through this one. 😈
Town-hall 9 War Base (Th9 War Base) – 17
Simply put, this is a BEAST of a TH9 war base. It may look like the Town Hall is in an easy position to snipe down, but the Tesla Farm, Spring Traps and Skeleton Traps will have another word to say 😈. Add to that a completely centered Clan Castle, and outer storages used to tank and distract, and you've got yourself several failed attacks in Clan War! Toss a Baby Dragon and Witch in your Clan Castle and watch the fun begin! (Fun for you… of course. Not for whoever attacks this!)
Town-hall 9 War Base (Th9 War Base) – 18
The strength of this base lies within the two MASSIVE X-Bow Islands. This base is built solely around those two beasts, and designed to keep attacking troops within the ❌. This should allow your X-Bows to sling arrows until the battle clock strikes zero. Since the Clan Castle is somewhat of an easy lure, 1 Baby Dragon and an Archer fill is recommended to really distract on defense.
Town-hall 9 War Base (Th9 War Base) – 19
Asymmetrical TH9 war base that is even MORE confusing than it appears! Built around a mid-size X-Bow island, there are really no obvious entry lines! But you know what there ARE lines of? BOMBS! These Bomb lines are ready to flatten packs of ground troops the moment they become within range. But fear not, Chief! This base is PLENTY capable of demolishing air attacks with the help of quad Air Defenses and dual outward-facing Air Sweepers. A Dragon is recommended on defense (top-off with Wizards and Archers) to provide a nice air tank for unsuspecting foe.
Town-hall 9 War Base (Th9 War Base) – 20
A solid no-frills TH9 anti-2 war base. With your Clan Castle and Town Hall buried deep in the core, you can rest easy in Clan War knowing the enemy will really have to work for their stars! The outer compartments are designed to aggro troops around surrounding compartments, with that extra gap compartment guarding the Town Hall. Witches are recommended on defense so the little Larry's can distract till their skeleton's content.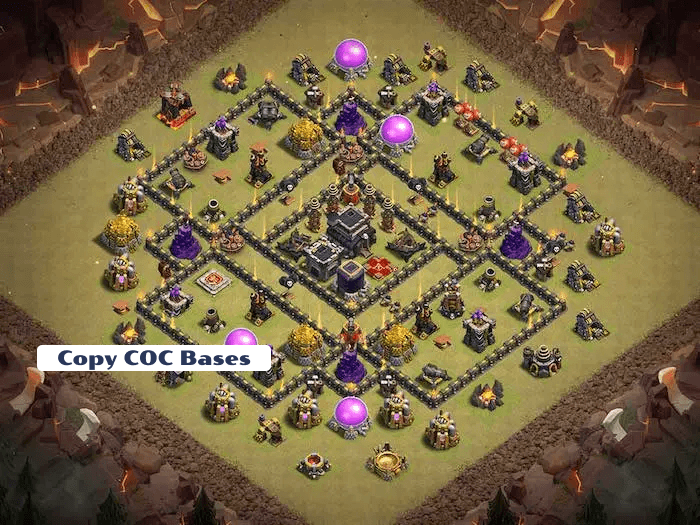 Town-hall 9 War Base (Th9 War Base) – 21
A deceiving anti-3 war base. It may look like the Town Hall is an easy snipe, but what's hidden from Clan War attackers are the Traps, Bombs and Tesla farm ready to join in on the fun! The rest of the base features odd-shaped compartments specifically designed to confuse pathing and troop AI.
Town-hall 9 War Base (Th9 War Base) – 22
Between the centered Clan Castle, Storaged-walled Town Hall, and confusing compartments, this base is TOUGH to plan an attack for. Our favorite part is the Archer Tower Podium sandwiched between quad Hidden Teslas and a Bomb Tower. This will dish out an excess amount of HP to bring down the strongest armies in Clan War and Clan War League! HIGHLY recommend this one.