Empower Your Village Defense: Unveiling the Top 18 TH12 Hybrid Bases for 2023 with Impenetrable Anti-Loot and Anti-Star Designs!
Welcome to our blog page, where we proudly present the Top 20 TH12 Hybrid Bases for 2023—the Clash of Clans base designs. Experience a realm of tactical genius as we reveal these expertly made strongholds that are designed to defend your community and your prized loot.
With an unwavering focus on defense, our expert team has meticulously handpicked these exceptional bases that boast unparalleled anti-loot and anti-star designs. Each layout is a testament to the art of defense, incorporating advanced tactics and ingenious arrangements to thwart even the most relentless attackers.
Discover the true power of fortification as you explore these battle-tested creations. From impenetrable walls and cunning traps to cunningly placed defenses and sneaky surprises, these bases are designed to leave your adversaries scratching their heads in defeat.
But it's not just about defense—these hybrid bases strike the perfect balance between fortification and resource management. Experience the thrill of safeguarding your precious loot while simultaneously maintaining a strong offensive capability. Dominate the battlefield and emerge as a true force to be reckoned with.
Join us on this exhilarating journey as we delve into the intricate details of each base, unraveling the secrets behind their success. Learn from the best and adapt their strategies to craft your own impregnable fortress, one that will stand tall amidst the chaos of the Clash of Clans world.
So, brace yourself for an immersive experience filled with innovation, inspiration, and sheer excitement. Get ready to fortify your village like never before and seize victory in the epic clash of clans. The time has come to rise above the rest and cement your legacy as a true Clash of Clans champion.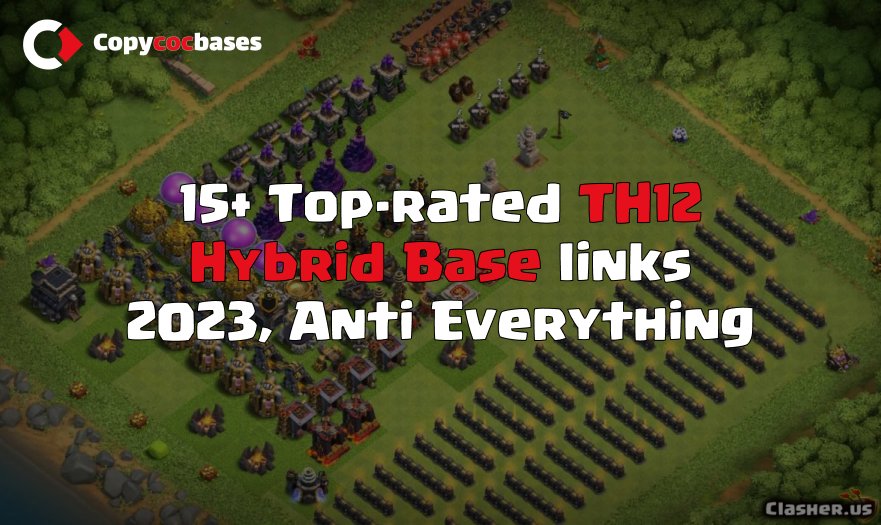 Table of Contents
Click to : TH12 Farming Bases
Town-hall 12 Hybrid Base (Th12 Hybrid Base) – 1
Pro-style Town Hall 12 hybrid base. The asymmetrical design makes pathing difficult to predict, which is great for your bottom line! Add to the mix an OP center core, with two Inferno Islands, and you've got yourself one solid base to protect your loot and cups.
Town-hall 12 Hybrid Base (Th12 Hybrid Base) – 2
Don't let those 'outer' storages fool you… they are NOT an easy snipe! All are well-within range of high DPS defenses, so low tier attacks will all likely fail. Once your Clan Castle troops and Eagle join in on the fun, this base will really begin to shine. One Baby Dragon & Witches are recommended in the Clan Castle to distract the attackers from getting to your loot!
Town-hall 12 Hybrid Base (Th12 Hybrid Base) – 3
This TH 12 hybrid has a very tough to lure Clan Castle, with pathing that is difficult to predict. Much like your typical war base! This means extra protection for both your trophy count and loot amount. A definite tricky time for any attacker.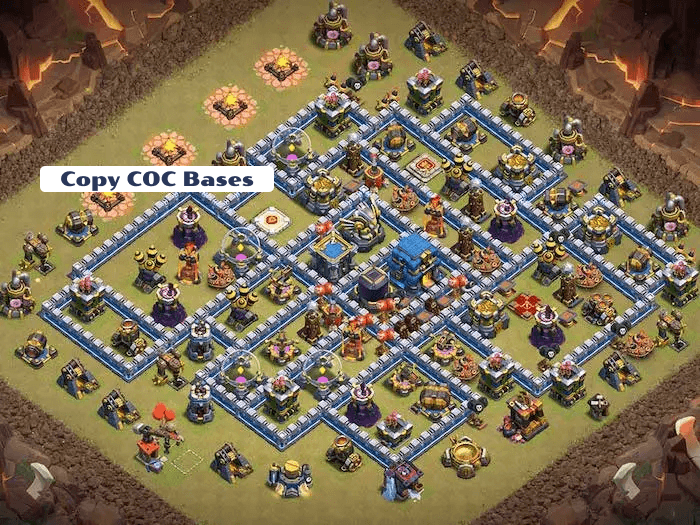 Town-hall 12 Hybrid Base (Th12 Hybrid Base) – 4
Oddly shaped, but effective! This TH 12 hybrid is designed to give you a shield, while protecting your Dark Elixir. Attackers won't have an easy time getting to your Town Hall once your Clan Castle troops become triggered! We recommend Ice Golems for this layout.
Town-hall 12 Hybrid Base (Th12 Hybrid Base) – 5
This is a very well rounded TH 12 hybrid base. With just about all of your storages 3-layers deep, attackers won't have an easy time looking for an effortless snipe. The centrally-placed Clan Castle, Town Hall and Eagle Artillery will aid in the enemy failing to reach 50%! Worth trying for at least a week; you likely won't regret it!
Town-hall 12 Hybrid Base (Th12 Hybrid Base) – 6
This base pairs up your storages, and surrounds them with high-DPS defense. Snipers won't have it easy if they're looking for an easy loot grab! Not to mention the core of the base with heavy protection from your Town Hall's Giga Tesla, your Eagle, Clan Castle and 3 Skeleton Traps, this base will surely spoil attacks.
Town-hall 12 Hybrid Base (Th12 Hybrid Base) – 7
It may look like your storages on the south east are an easy snipe, but your defending Clan Castle will surely say otherwise! The rest of the base is certainly no walk in the park either. Compartment-heavy, with carefully placed defenses will work wonders in keeping your cup count high, and your storages unscathed.
Town-hall 12 Hybrid Base (Th12 Hybrid Base) – 8
The quintessential square base! This time, putting extra attention on protecting your storages and Town Hall. The Eagle is likely going to lure attackers on the south east end, which is why there is a nice Tesla Farm there to greet them! Once they get past the Tesla Farm, they will have a plethora of Traps and Bombs to deal with. Don't sleep on this one!
Town-hall 12 Hybrid Base (Th12 Hybrid Base) – 9
WIDE style anti-2 hybrid base for Town Hall 12. The selling point of this base is the very randomly place (and HUGE) outer ring. It's tough to plan an attack for to get to your loot & Town Hall. Attacking troops will likely spend most of the battle traveling the perimeter of the base while avoiding all of your loot & high-tier defenses in the core. Excellent base for both farming & trophy pushing!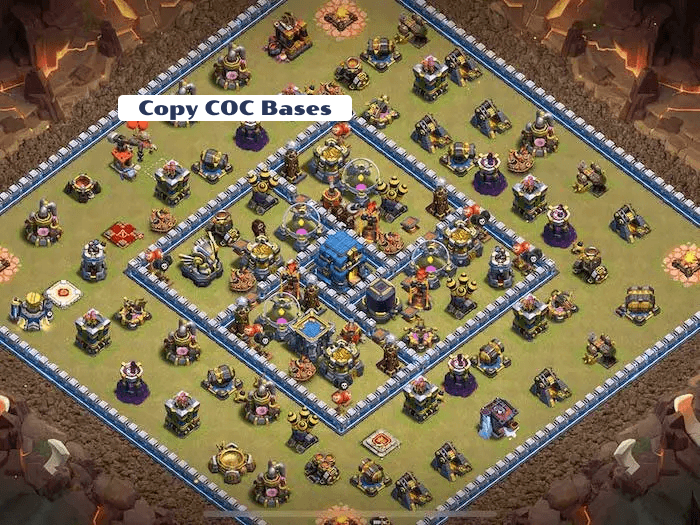 Town-hall 12 Hybrid Base (Th12 Hybrid Base) – 10
This Town Hall 12 hybrid base places your Eagle Artillery as the center-point, with all storages in short proximity. Symmetric, but certainly a tricky base to hit! Especially if your attacker is looking for a quick snipe. we recommend a Lava Hound on defense to help tank & distract Dragon attacks, which are fairly common for farming at Town Hall 12.
Town-hall 12 Hybrid Base (Th12 Hybrid Base) – 11
Compartment-heavy Town Hall 12 hybrid base! Taking up a big portion of the real estate, this base works WONDERS in securing BOTH your loot 💰 and trophies 🏆. With the help of your completely centered Clan Castle & surrounding high-tier defenses, attackers should expect to bring a Clan War army if they want to get to your storages! Not to mention the TRAP HEAVY compartment that holds your Town Hall… This base is shockingly good! ⚡️
Town-hall 12 Hybrid Base (Th12 Hybrid Base) – 12
Anti-ground and anti-air Town Hall 12 hybrid! This base is ESPECIALLY good if you want to farm one specific type of resource. In our design, we're putting emphasis on securing Gold, but if you want to loot Elixir, just swap the 4 storages accordingly. Aside from that… this base is tricky, using characteristics of Clan War League bases. We at Clash Fanatic App especially like the anti-air portion of this base by fortifying all 4 of your Air Defenses and two Air Sweepers. We recommend Ice Golems and 1 Baby Dragon on defense. You'll see why! 🥶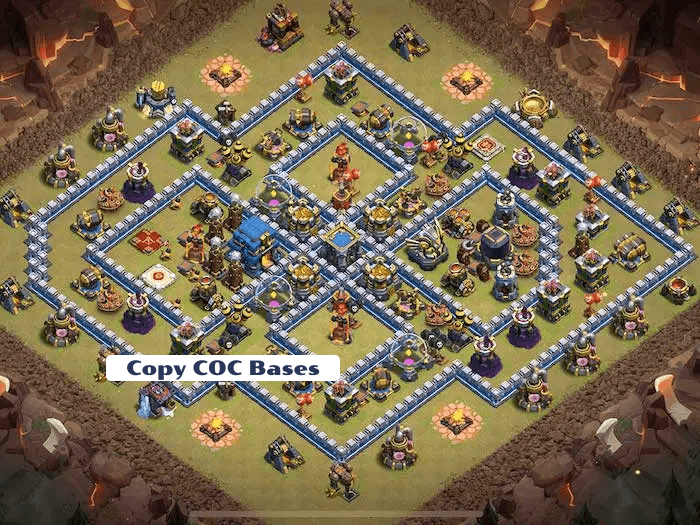 Town-hall 12 Hybrid Base (Th12 Hybrid Base) – 13
This is an EXCELLENT base for protecting your trophies & securing your loot at Town Hall 12. Your storages are safe behind several layers of defenses and walls deep in the core. If attackers entry line is on the west to take down your Eagle, your defending Clan Castle troops will be ready and willing to spring to battle! The east end of this base has your Town Hall / Giga Tesla with no shortage of surrounding defenses. We recommend a pair of Ice Golems on defense with Archers to top off; keeping your enemies frozen under ice will further repel them from your loot & trophies ❄️
Town-hall 12 Hybrid Base (Th12 Hybrid Base) – 14
Asymmetrical monster of a hybrid base! This Town Hall 12 base takes up an enormous portion of the base in randomly-placed compartments to make enemy pathing tricky to predict. With almost all of your storages within range of your Clan Castle trigger ring & Giga Tesla radius, you can be sure attackers won't have it easy sniping your Gold & Elixir!
Town-hall 12 Hybrid Base (Th12 Hybrid Base) – 15
This Town Hall 12 hybrid secures ALL of your storages within walls, with characteristics of a Legends League base! Centered Clan Castle for a tough lure, HUGE Inferno islands, devastating Mortar farm in north, Air Sweepers both pointing south with Air Defenses in the north for blindside protection, and then some! We recommend Witches on defense for some Larry distractions 💀.
Town-hall 12 Hybrid Base (Th12 Hybrid Base) – 16
Great base for trophy pushing and farming at Town Hall 12! Tightly packed which means all of your storages are within range of PLENTY of defenses. Spread out outer buildings help slow down E-Drag and Valkyrie attacks. Centered Clan Castle for a hard lure. All work in synchronicity to help secure your loot and trophies!