Best TH5 Hybrid Base – Balancing Defense in COC
In the epic world of Clash of Clans, where strategic prowess reigns supreme, TH5 Hybrid base layouts hold the key to victory. The right base design can make all the difference, providing a solid defense while ensuring efficient resource management. For Town Hall 5 players seeking the ultimate balance between defense and resource protection, CopyCoCBases emerges as the go-to destination. With its wide range of meticulously crafted hybrid base layouts, CopyCoCBases offers a treasure trove of designs to empower Clashers at TH5.
The hybrid base layout is a strategic marvel, integrating defensive structures and resource storages in a harmonious arrangement. This layout type aims to protect both valuable resources and vital defensive structures simultaneously. By cleverly combining defensive structures with resource buildings, hybrid bases provide players with an effective defense against enemy attacks while optimizing resource management.
Unleashing the Potential of TH5 Hybrid Bases: CopyCoCBases is committed to delivering cutting-edge base designs, specifically tailored for Town Hall 5 players. Our expert designers invest their expertise and deep understanding of Clash of Clans mechanics to create unique layouts that excel in both defense and resource protection. TH5 hybrid bases from CopyCoCBases are meticulously designed to adapt to the latest meta, ensuring a competitive edge for our users.
Resource management plays a vital role in Clash of Clans, especially at Town Hall 5, where every coin and elixir drop matters. CopyCoCBases recognizes this crucial aspect and focuses on integrating resource storages within the hybrid base layouts effectively. By strategically placing resource buildings and protecting them with defensive structures, our designs create a formidable barrier against attackers, discouraging potential looters.
Defense is paramount in Clash of Clans, and CopyCoCBases takes it seriously. Our TH5 hybrid base layouts feature ingenious arrangements of defensive structures, including cannons, archer towers, and traps, to provide optimal coverage against ground and air attacks. By carefully considering attack paths and potential weak spots, our designs ensure that enemy forces are met with a formidable defense, reducing the chances of a successful raid.
The meta in Clash of Clans is ever-evolving, and a successful base layout must be adaptable to the changing strategies and tactics of attackers. CopyCoCBases regularly refreshes its library of TH5 hybrid bases to take into account the most recent developments and defend against new attack strategies. Our commitment to keeping pace with the evolving game dynamics ensures that our users stay one step ahead of their adversaries.
CopyCoCBases prides itself on providing a user-friendly experience for Clashers seeking their ideal TH5 hybrid base layout. Our website offers a comprehensive collection of base designs, accompanied by detailed explanations and visual representations. Users can effortlessly navigate through our categorized selection, making it easy to find the perfect base that matches their playstyle and preferences.
CopyCoCBases fosters a vibrant community of Clash of Clans enthusiasts, encouraging engagement and knowledge-sharing among players. Our website features a forum where players can discuss strategies, seek advice, and share their experiences. This collaborative environment allows Clashers to grow and thrive together, unlocking their full potential in the game.
Click to : TH5 Attack Strategy
CopyCoCBases stands as a beacon of excellence in providing top-tier TH5 hybrid base layouts for Clash of Clans players. With our expertly crafted designs, players at Town Hall 5 can fortify their defenses, safeguard theirresources, and gain a competitive edge in the game. Our commitment to adapting to the ever-changing meta ensures that our users always have access to the latest strategies and tactics. Explore CopyCoCBases today and discover the perfect hybrid base layout that will elevate your Clash of Clans gameplay to new heights. Prepare to defend your village and dominate the battlefield with our TH5 hybrid bases!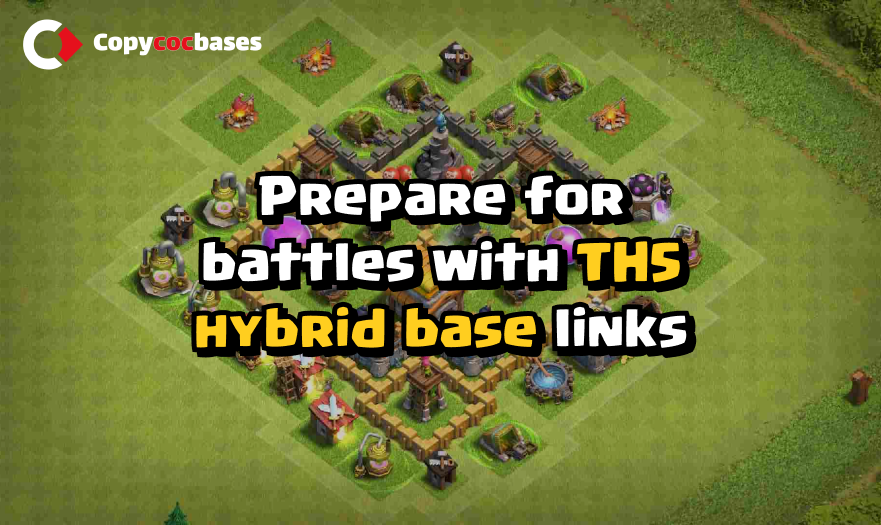 Table of Contents
Click to : TH5 Artistic Base
Town-hall 5 Hybrid Base (Th5 Hybrid Base) – 1
This Town Hall 5 hybrid base has a huge perimeter! Asymmetrical design makes pathing difficult to predict, which greatly helps you keep both your trophies and loot. Centrally-placed Mortar, Air Defense & Clan Castle will ensure that any enemy that gets too close will certainly regret attacking you!
Town-hall 5 Hybrid Base (Th5 Hybrid Base) – 2
Anti-Archer Town Hall 5 hybrid base. All 4 storages are protected in compartments, but spread out a good distance. This prevents easy loot sniping from the enemy. 1 Baby Dragon and 5 Archers are recommended in your Clan Castle for defense.
Town-hall 5 Hybrid Base (Th5 Hybrid Base) – 3
The centrally-placed Clan Castle provides essential defense for your 4 storages and Town Hall. While the base may be on the smaller end (in terms of spacing), it definitely packs a punch on defense! If you're looking to protect your loot while climbing up in trophies, this is the base for you!
Town-hall 5 Hybrid Base (Th5 Hybrid Base) – 4
Wide-layout hybrid for Town Hall 5 helps prevent your loot from being sniped away. Centrally-located storages, Town Hall & Clan Castle are protected by a ring of defense and traps.
Town-hall 5 Hybrid Base (Th5 Hybrid Base) – 5
While this base has exposed (no walls) Gold Storages, the carefully-placed Traps, Bombs & splash Defense (Mortar & Wizard Tower) help protect your coins! Another small but mighty Town Hall 5 hybrid.
Town-hall 5 Hybrid Base (Th5 Hybrid Base) – 6
This Town Hall 5 hybrid features an X-shaped loot-core, surrounded by 4 defense compartments and garnished with Traps and Bombs. A small layout that greatly benefits once your defending Clan Castle troops join the battle! Give this base a try if you're trying to push while holding onto your hard-earned Gold & Elixir.
Town-hall 5 Hybrid Base (Th5 Hybrid Base) – 7
Centrally-located Clan Castle & splash defense helps protect both your loot & Town Hall. If any ground troops attack from either the north or south end of this base, they'll be greeted by those Springs & Bombs! Great layout for pushing & hoarding loot.
Town-hall 5 Hybrid Base (Th5 Hybrid Base) – 8
Wide-layout symmetrical farming base for Town Hall 5. By keeping the outer buildings separated, it thwarts any attempts at easy sniping. Not to mention the fact that each of your 4 storages are nicely protected in their own compartment. Excellent base to use if you're trying to farm some Gold and Elixir at TH5.