Ultimate TH12 War Bases 2023: Unveiling the Top Rated, Latest Updated Anti-3 Star Designs for Town Hall 12
Our in-depth guide to the top TH12 War Bases of 2023 will help you get ready for triumph on the battlefield. In this illuminating blog article, we present a selection of top-rated and painstakingly updated designs that are especially created to combat the most difficult adversaries and prevent those unrelenting 3-star attacks.
Discover the pinnacle of strategic base construction as we showcase the latest advancements in anti-3 star designs tailored exclusively for Town Hall 12. Each base layout has been carefully crafted by seasoned Clash of Clans experts, incorporating cutting-edge techniques and innovative placements to maximize defense efficiency.
By delving into this treasure trove of TH12 War Bases, you'll gain valuable insights into the intricate art of base building, enabling you to outwit your adversaries and emerge victorious in the fiercest of battles. These designs not only prioritize robust defensive structures but also strategically position traps and defenses to exploit your opponents' weaknesses.
Stay ahead of the competition as we unveil the top-rated war bases of 2023, armed with the latest updates and refinements to ensure they are battle-ready for the challenges that lie ahead. Each base design undergoes rigorous testing and analysis to guarantee its effectiveness against a range of attacking strategies.
Whether you're a seasoned war strategist or a passionate newcomer to the Clash of Clans universe, these TH12 War Bases will empower you to dominate the battlefield and secure triumphant victories. Embrace the power of the ultimate war base designs as you witness their unrivaled defensive capabilities and their ability to deter even the most skillful attackers.
Don't miss this exclusive opportunity to elevate your war game to unprecedented heights. Join us as we delve into the realm of TH12 War Bases, where the art of defense is honed to perfection and victory becomes an attainable reality.
Table of Contents
Click to : another TH12 war base
Town-hall 12 War Base (Th12 War Base) – 1
Pro-style TH 12 war base that performs just as good as it looks! Wide compartments, troll Spring walls and entirely covered real estate are all characteristics of this layout. Take a quick peek at that completely centered Clan Castle! If your attacker thinks they can easily lure it, they have another thing coming 😎.
Town-hall 12 War Base (Th12 War Base) – 2
Decisions decisions… Hit the Eagle first, or lure the Clan Castle first? One thing is for certain, the enemy won't be able to get both! This will make for a very challenging anti-2 war attack. Very well-rounded TH 12 war base with a highly destructive X-Bow farm just waiting to sling 4x the amount of arrows! We also love the amount of troll Spring walls we added 😈. Watch enemy troops fly right over to the Clan Capital!
Town-hall 12 War Base (Th12 War Base) – 3
Your attacker will likely deploy from the south, which is where a TON of Traps, Springs and Bombs will be awaiting! On the north side of the base, the X-Bows and Archer Towers will quickly snipe away any weakened troops that made it that far. Overall a great anti-2 base for Clan War!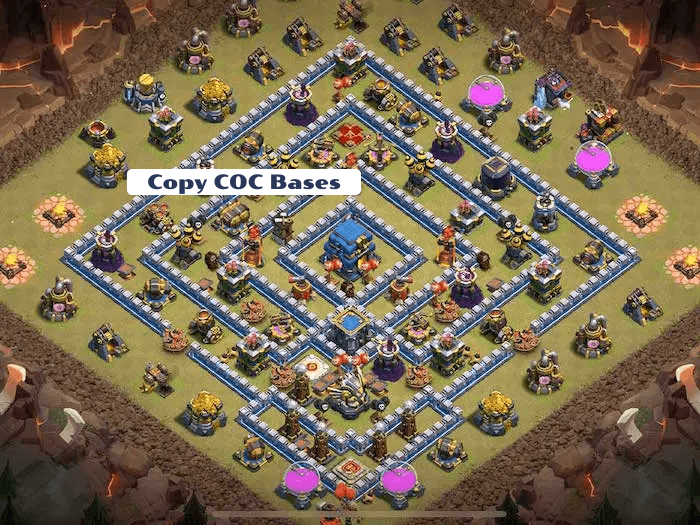 Town-hall 12 War Base (Th12 War Base) – 4
Pro-style anti-3 war base, specifically mastered for Clan War League! Attackers charging the Town Hall will be caught off guard with the amount of Traps, Bombs and Teslas that await them. Not to mention the Spring Trap farm right next to the Town Hall! Once your Eagle Artillery gets triggered, this attack should end quicker than it began!
Town-hall 12 War Base (Th12 War Base) – 5
Asymmetrical beast of a TH 12 war base! Anti-3 by nature, this base is designed to give very little value to Wall Wrecker deployments. That means the rest of your bases walls should keep their health on the up. Centrally located Clan Castle, Eagle Artillery, Archer Tower and Grand Warden will dominate any troops that make it uncomfortably close to the core.
Town-hall 12 War Base (Th12 War Base) – 6
Utilizing most of the available real estate, this TH 12 war base takes anti-air to the next level! Your Air Sweepers are deep in the core, within range of Air Defenses and X-Bows to ward off any air troop that gets too close to your core. Ground attacks won't have an easy time with this layout as well! Compartment heavy, and designed to aggro spiral troops around the base, your core (and thus a 3-star attack) is defended from both air and ground hits.
Town-hall 12 War Base (Th12 War Base) – 7
This asymmetrical TH 12 war base will be challenging for your attackers to predict pathing. This is due to the seemingly uncharacteristic compartment sizes and placements, along with the defenses & traps they contain. The amount of tier-1 defenses on the outer perimeter, mixed in with the trash buildings to further confuse attacking troops is the cherry on top! Solid contender for Clan War League.
Town-hall 12 War Base (Th12 War Base) – 8
Centrally-placed Clan Castle provides a very tough troop lure. That makes the core of this base tricky to clear! The east end of this base has plenty of defense to keep the Eagle protected, and landing down mortar shells, while the west end has your 3 Royals to fend off would-be attackers. Let's also not forget how OP the Town Hall compartment is, with all of the surrounding high HP Storages 😎.
Town-hall 12 War Base (Th12 War Base) – 9
Asymmetrical anti-3 war base designed to give very little value to Wall Wreckers. Tier-1 outer defenses help to distract enemies away from your walls, while Bombs, Traps and a chunky Tesla Farm do their part to help defend. Two Inferno Islands could very well be the last 2 defenses standing after a good attack, thus saving you and your Clan from another enemy star!
Town-hall 12 War Base (Th12 War Base) – 10
If you think you can predict the pathing on this base, you're likely mistaken! Overloaded with compartments, this asymmetrical base will prove effective at defending a triple in Clan War. With a slew of outer tier-1 defenses, Bombs and Traps, this base will surprise the overly-confident attacker. And there's nothing better than derailing an enemy war attack 😈! FC this base with your clan and tell them Clash Fanatic App sent you 😁
Town-hall 12 War Base (Th12 War Base) – 11
Yes, that's a very easy Town Hall to snipe. But the rest of the base?? Not so much! The trend with this base is enemies nonchalantly deploying their troops on the south end without planning a path or entry line; they just want the quick star. The result are enemy troops aggroing around the outside, with the lure of the tier-1 defenses (such as the Mortars, Archer Towers and Cannons.) This keeps your core nice and protected. And the core of this base is an absolute UNIT!
Town-hall 12 War Base (Th12 War Base) – 12
With the allure of an open wall on the southern compartment, enemies will likely spam troops to pick off the Town Hall. That's precisely when they will be greeted with a mess of Bombs, Giant Bombs, Spring Traps and a Tornado Trap! This should chip away at the enemy army enough so they can't make it around the rest of this base. Ice Golems are recommended, to freeze up enemies. Excellent pick for Clan War League!
Town-hall 12 War Base (Th12 War Base) – 13
Compartment-heavy and very asymmetrical, this base will be tough to predict, even for veteran clashers! The Town Hall is placed in a way to provide very little value to Wall Wrecker attacks, which the rest of your base will thank you for! Specifically designed to both prevent the 3-star, and burn up several attacks in Clan War. Also a formidable choice for Clan War League, if we do say so ourself! 🎩 *tips hat*
Town-hall 12 War Base (Th12 War Base) – 14
This Town Hall 12 war base has it all! Between a TOUGH to lure Clan Castle, centered Eagle Artillery, Troll Spring openings and a trap-heavy core, you're going to fend off many unprepared attackers. Air attackers won't have it easy either, with 3 of your 4 Air Defenses and 2 Air Sweepers DEEP in the core. We also enjoy the Storage farm on the north end to GREATLY tank and slow down attackers. Excellent base to use for Clan War League!
Town-hall 12 War Base (Th12 War Base) – 15
Wide style Town Hall 12 war base with a completely centered Clan Castle! We all know the importance of luring Clan Castles during Clan War… And when this isn't a viable option, attacking becomes considerably trickier! With your Eagle Artillery on the north and your Town Hall / Giga Tesla on the south, attacking this base from any angle will be anything but an easy feat. Not to mention the Tesla Farm / Skeleton Traps / Tornado Traps all buttoned up against your Town Hall… 😉
Town-hall 12 War Base (Th12 War Base) – 16
This Town Hall 12 Clan War base is TRICKY. Take a look at the west end… Once attackers begin to chip away at the massive amount of Storage HP, your defending Clan Castle troops will help put a halt to their plans. With the Eagle Artillery centered in this base, you're bound to be raining down shells throughout the majority of the battle.
Town-hall 12 War Base (Th12 War Base) – 17
This Town Hall 12 war base is HUUUUGE! Taking up just about every portion of available land, you're bound to put up a tough attack for E-Drag attackers. This is because their chain lightning won't be able to spread from building to building. Pathing is tricky to predict due to the sheer size of this base. We recommend Ice Golems and Witches on defense to help freeze & distract with the help of the Witches' Skeletons. Great base to use in Clan War League to help defend against a 2+ star attack!
Town-hall 12 War Base (Th12 War Base) – 18
Asymmetrical Clan War base for Town Hall 12. Centrally placed Town Hall and Clan Castle make for a challenging 2-star attack. We love how the Eagle is placed in a position to inadvertently trigger the Clan Castle ring! Trap heavy compartments with random Storages throughout to serve as tanks help to greatly slow down attacks. Give this base a try today by pressing the Copy button below!