"TH4 Hybrid Base – Balanced Defense and Resource Protection in Clash of Clans"
Welcome to Copycocbases, your ultimate destination for dominating Clash of Clans at Town Hall 4 (TH4) level. As avid Clashers ourselves, we understand the importance of a solid hybrid base layout that can protect your resources while allowing you to mount strategic attacks. With our expert team of base designers, we have curated a collection of top-list TH4 hybrid base layouts to give you an edge over your opponents. In this article, we will explore the concept of hybrid layouts, showcase some new and innovative designs, and explain why they are essential for your success in Clash of Clans.
A hybrid base layout serves a dual purpose in Clash of Clans, combining elements of both defense and resource protection. At TH4, it's critical to strike the correct balance between guarding your priceless resources and repelling hostile assaults. A well-designed hybrid base layout ensures that your Town Hall, storages, and defensive structures are strategically positioned to discourage enemy raids while minimizing losses during attacks.
The primary objective of a hybrid base is to safeguard your resources, including gold, elixir, and Dark Elixir, which are necessary for upgrading your troops and defenses. Simultaneously, it must not compromise your defense mechanisms, as you need a strong defense to repel enemy attacks effectively. A hybrid base layout achieves this delicate equilibrium by strategically placing defensive structures to cover resource storages and the Town Hall, while also considering potential attacker entry points.
At Copycocbases, we continuously strive to provide you with the latest and most effective TH4 hybrid base designs. Our team of experienced base designers works diligently to create innovative layouts that adapt to evolving attack strategies and keep you ahead of the game. Let's take a look at some exciting new designs that can revolutionize your Clash of Clans experience:
The Fortress Core: This design focuses on creating a strong core around your Town Hall, incorporating layers of defensive structures to discourage attackers. The outer layer contains resource storages, which act as bait to divert enemy troops away from the core. This layout ensures that your Town Hall remains safe, while simultaneously providing a formidable defense.
The Maze Defense: This design features a labyrinth of walls and traps that confuses attackers and slows down their progress. The strategic placement of defensive structures ensures that enemy troops are constantly redirected, buying your defenses valuable time to eliminate the threat.
The Hidden Vault: This innovative design uses strategic placement of resource storages within the base to lure attackers into a trap. Hidden Teslas, bombs, and other traps surround the storages, turning the tables on unsuspecting raiders and ensuring that they pay a hefty price for their greed.
The Split Path: This layout employs a split design, dividing the base into two separate sections. The goal is to confuse attackers and split their forces, making it challenging for them to focus on a single target. This base design is highly effective against inexperienced attackers who struggle to adapt to unexpected scenarios.
Click to : TH4 Attack Strategy
As you progress through Clash of Clans at TH4, a well-designed hybrid base layout becomes crucial to your success. The strategic placement of defensive structures and resource storages can significantly impact your ability to protect resources while maintaining a strong defense against enemy raids. Copycocbases provides you with an extensive collection of top-list TH4 hybrid base layouts, each crafted to offer a unique advantage.
Remember, the art of base design is an ongoing process, as new attack strategies emerge, and the meta evolves. Stay updated with the latest designs from Copycocbases to ensure you have the best chance of success in Clash of Clans.With Copycocbases, you can confidently fortify your TH4 base with our carefully curated hybrid layouts. Safeguard your resources, defend against enemy raids, and rise above your competitors. Our team of expert designers continuously innovates to bring you the most effective base designs. Explore new strategies such as the Fortress Core, Maze Defense, Hidden Vault, and Split Path layouts to outsmart your adversaries.
Copycocbases offers you an extensive selection of TH4 hybrid base layouts that combine resource protection with effective defenses. Protect your hard-earned resources while deterring enemy attacks and climbing the ranks in Clash of Clans. Stay ahead of the ever-changing meta by regularly updating your base design with our latest and most innovative strategies. Trust Copycocbases to empower you with the best TH4 hybrid base layouts for an unrivaled Clash of Clans experience.
Table of Contents
Click to : Th4 War Base
Town-hall 4 Hybrid Base (Th4 Hybrid Base) – 1
Strategically placed buildings and defenses lure the enemy right into the danger zone. The enemy may think those two exposed storages are 'easy money,' but when the traps get activated and your defending Clan Castle troops get triggered, it's game on!! Great base for keeping your loot while climbing the Trophy ranks.
Town-hall 4 Hybrid Base (Th4 Hybrid Base) – 2
Solid hybrid base for both trophy pushing and loot-hoarding. The Spring Traps in the core should help defend your loot if any Giants & Goblins bust through the walls.
Town-hall 4 Hybrid Base (Th4 Hybrid Base) – 3
As hybrid as you can get at Town Hall 4! Well-protected storages provide shelter to your Town Hall. The Clan Castle is an easy trip, which will likely catch your attackers off-guard. A great base for saving your hard-earned loot, while still gaining trophies on defense! 🏆💰👍
Town-hall 4 Hybrid Base (Th4 Hybrid Base) – 4
Those storages (particularly the Elixir storages) look like an easy snipe, right? Wrong!! All 4 storages are in-range of the two Archer Towers and Clan Castle. That will help put an end to pesky archer snipes. 😎 With your Clan Castle being tucked away by several layers of buildings and defenses, expect to win on defense while saving your loot.
Town-hall 4 Hybrid Base (Th4 Hybrid Base) – 5
This Town Hall 4 hybrid base is specifically designed to protect your loot at all cost! While it may look like your Elixir Storages are an easy reach, they're protected by Spring Traps and a Mortar that's ready to spoil ground snipers. Giants are recommended in your Clan Castle to serve as tanks while your defenses rain down.
Town-hall 4 Hybrid Base (Th4 Hybrid Base) – 6
Hybrid troll base! While your Town Hall is exposed on the north end, it's well within range of your Archer Towers and defending Clan Castle ring. The two openings below your Town Hall guide attackers into a pair of Spring Traps and Bombs to chip away at pesky troops that made it that far. Excellent base for protecting both your Trophies and Loot!v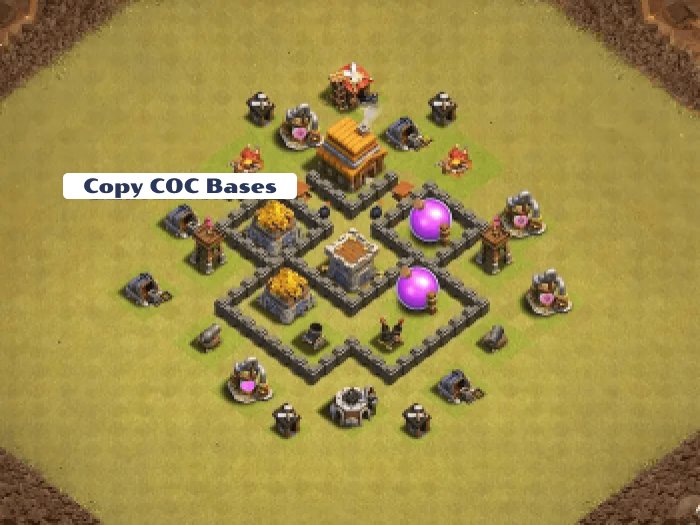 Town-hall 4 Hybrid Base (Th4 Hybrid Base) – 7
Loot-heavy center compartment with no shortage of surrounding protection! Your Clan Castle is completely centered, so you're guaranteed to safeguard your loot with defending troops. A Baby Dragon or Minions are recommended in your Clan Castle to help defend against Balloon attacks. Excellent hybrid base at TH4!
Town-hall 4 Hybrid Base (Th4 Hybrid Base) – 8
A heart-shaped base that your attackers certainly WON'T love 😎. Attacking from the south will aggro ground troops right into a devastating pair of Spring Traps, immediately followed by a pair of Bombs. All the while being pummeled by surrounding defenses and your Clan Castle. We at Clash Fanatic App recommend a Baby Dragon to help assist in air splash. Try this one today!!