TH4 Farming Base – Efficient Farming Strategy in COC
Welcome to CopyCocBases, your ultimate destination for top-tier TH4 farming base layouts in the renowned mobile game Clash of Clans. As avid clashers ourselves, we understand the importance of a strong farming base to secure resources and protect our hard-earned loot. Our platform aims to provide you with the most effective and innovative designs, enabling you to dominate the game right from the early stages of your Clash of Clans journey.
In the Clash of Clans, farming is an essential aspect of progression. A farming base layout plays a pivotal role in safeguarding your resources, such as gold, elixir, and dark elixir, from enemy raids. It is crucial to strategically position your buildings, traps, and defensive structures to deter attackers and minimize potential losses. At Town Hall 4, where you begin to establish your foothold in the game, a well-designed farming base can make all the difference in accelerating your growth.
CopyCocBases is dedicated to providing you with the most effective and up-to-date Town Hall 4 farming base layouts. Our team of expert clashers invests countless hours into researching and testing various designs, ensuring that only the best make it to our platform. We understand that Clash of Clans is an ever-evolving game, and we continuously update our content to keep pace with the latest changes and strategies.
As the Clash of Clans community continues to grow, so does the need for innovative base designs. At CopyCocBases, we take pride in offering a wide range of unique farming base layouts for Town Hall 4, each with its own strengths and features. Our collection includes designs that focus on resource protection, defense against specific troop combinations, and creative placement of defensive structures.
One of the keys to our success lies in fostering a vibrant community of Clashers who contribute their own farming base designs. We encourage our users to share their strategies, feedback, and new layouts, creating a dynamic platform where clashers can learn from and inspire one another.
While we provide an extensive selection of Town Hall 4 farming base layouts, we also believe in empowering our users to create their own personalized designs. Here are some essential tips to consider when crafting your farming base:
Centralize Resources: Place your storage in the center of your base, surrounded by defensive structures. This layout ensures that attackers have to go through multiple layers of defenses before reaching your valuable resources.
Strategic Placement of Defensive Buildings: Utilize the strengths of each defensive structure by placing them strategically to cover each other's blind spots. This synergy between defenses maximizes your base's defensive capabilities.
Funneling and Traps: Create paths or funneling areas that direct enemy troops into traps, such as Spring Traps or Bombs. Proper trap placement can decimate enemy forces and turn the tide of battles in your favor.
Balance and Adaptability: Regularly evaluate your farming base design and make adjustments based on the evolving meta and trends. What works today may not be effective tomorrow, so stay flexible and be ready to adapt.
Click to : TH4 Attack Strategy
CopyCocBases is your go-to destination for top-tier Town Hall 4 farming base layouts in Clash of Clans. Our commitment to excellence, innovative designs, and vibrant community make us the ultimate resource for Clashers looking to secure their resources and dominate the game. Whether you're a new player or a seasoned Clasher, our platform has everything you need to thrive in Clash of Clans. Explore our vast collection of Town Hall 4 farming base layouts, unleash the power of strategic design, and pave your way to success in Clash of Clans. Join the CopyCocBases community today and take your farming game to the next level!
Table of Contents
Click to : TH4 Hybrid Base
Town-hall 4 Farming Base (Th4 Farming Base) – 1
Anti-Giant Town Hall 4 Farming base. If protecting your loot is your top priority, give this layout a try! All 4 storages are protected by carefully placed defenses, traps, bombs and central Clan Castle. Enjoy watching Giants fly off the map after trying to smash that Cannon! 😂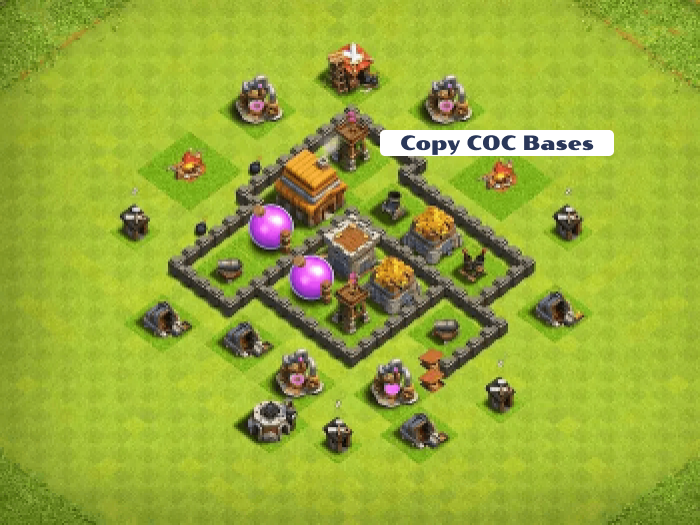 Town-hall 4 Farming Base (Th4 Farming Base) – 2
Wide-design style farming base, this layout stores 3 of your 4 storages deep in the core. While it may look like that Gold Storage on the west is an easy snipe, the defending Spring Trap, Cannon & Archer Tower will say otherwise. 😎
Town-hall 4 Farming Base (Th4 Farming Base) – 3
Baby ring base! The outer ring in this Town Hall 4 farming base holds your loot… But it also holds every available defense! Watch some troops fly once they hit that spring gap in the wall. For best results, get some splash troops on defense. 1 Baby Dragon, 1 Wizard & 1 Archer is a good defensive combo!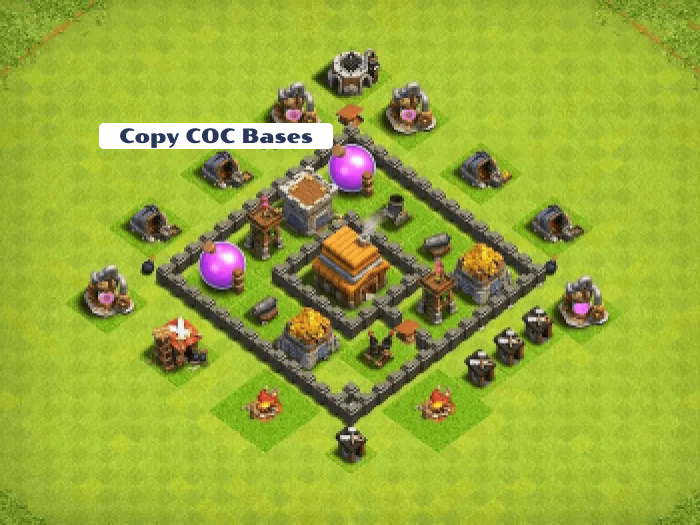 Town-hall 4 Farming Base (Th4 Farming Base) – 4
This tightly-packed farming base ensures that once the enemies begin attacking, your Clan Castle troops will come to the rescue! Storages are split between two compartments, and are highly defended by their surroundings.
Town-hall 4 Farming Base (Th4 Farming Base) – 5
While there are several characteristics of a hybrid base here, this is primarily a farming base. Particularly if you're trying to farm Gold! Great overall defense against Giants, this base keeps your storages compartmentalized with no easy way to snipe.
Town-hall 4 Farming Base (Th4 Farming Base) – 6
Pro farming layout for Town Hall 4. Your storages are protected within 3 heavily-defended compartments. The small size of this base works in your benefit, because once the enemies get close to your loot, the Clan Castle troops will emerge into battle!
Town-hall 4 Farming Base (Th4 Farming Base) – 7
Wonderful farming base for Town Hall 4. This base is designed to aggro attacking troops right into the core of the base, where all of your defense resides. By luring enemies into the defense-heavy core, they'll avoid the quad storage compartments on the perimeter, keeping your Gold and Elixir nice and protected!
Town-hall 4 Farming Base (Th4 Farming Base) – 8
A symmetrical farming base that's designed to lure attacking foe around your base, and away from your storages. This is due to the outer perimeter having both non-defense buildings (AKA trash buildings) and defense buildings. Namely a pair of Cannons and an Archer Tower. A Baby Dragon is recommended on defense to help with splash assists!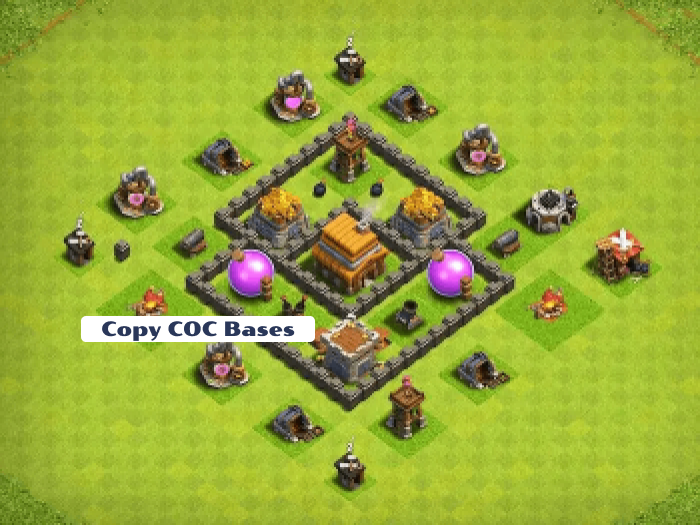 Town-hall 4 Farming Base (Th4 Farming Base) – 9
With your Clan Castle PERFECTLY centered, you have 360 degrees of defensive protection. All 4 of your storages are well within the Clan Castle trigger ring, which helps keep enemies at bay. We recommend a Baby Dragon on defense to provide splash damage via air!
Town-hall 4 Farming Base (Th4 Farming Base) – 10
Three compartments on this base designed to safeguard your hard-earned loot. The center compartment has two Troll Spring opensings designed to give ground troops the ride of their life if they get too close to your Gold and Elixir. Great base for farming at Town Hall 4! Try it today!
Town-hall 4 Farming Base (Th4 Farming Base) – 11
Resembling a hybrid, this Town Hall 4 farming base is designed to protect your loot at all cost! With your Mortar and Air Defense tucked away deep in the core, you have exceptional defense against both air and ground attacks. Not to mention the east end wall that troll ground troops right into a pair of Bombs 😎😎. Toss a Baby Dragon in your Clan Castle… you'll see why 😉.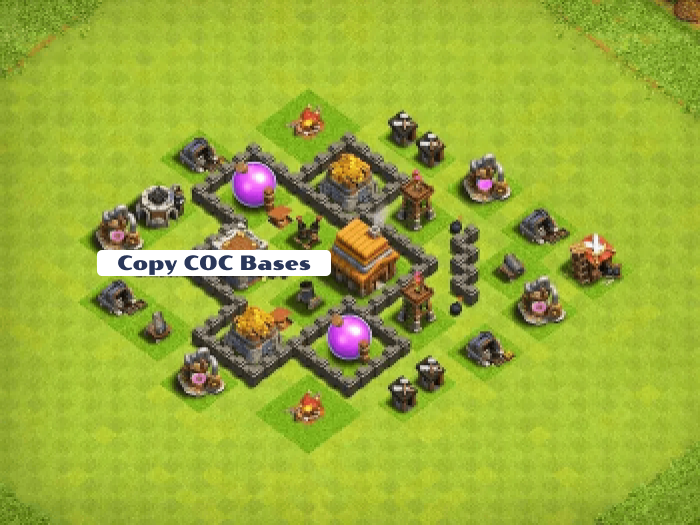 Town-hall 4 Farming Base (Th4 Farming Base) – 12
Stealth bomber farming base at Town Hall 4. This base secures your loot in two 'wing' compartments on the far ends, while protection is provided by the centered Clan Castle, Mortar and Air Defense. All of your hidden goodies are surrounding your Town Hall… just in case any sneaky enemies get too close to the core! Give this a try!