Grand Architect: Expertly Crafted BH7 Trophy Pushing Base Layout
Welcome to CopyCoCBases, your one-stop solution for top-tier BH7 Trophy Pushing Base layouts in the thrilling world of Clash of Clans. With our expertise and dedication, we aim to provide you with cutting-edge designs and strategies that will help you dominate the competition and ascend the ranks with ease. Whether you're a seasoned player or just starting your journey, our carefully crafted bases are tailored to enhance your gaming experience and maximize your chances of achieving glory in the trophy pushing scene.
Trophy pushing is a strategic aspect of Clash of Clans that involves designing and utilizing a robust base layout to defend against attacks from other players while simultaneously launching successful offensives to accumulate trophies. Trophies are a measure of a player's skill and success in the game, and reaching higher trophy levels unlocks exclusive rewards and prestige.
A well-designed layout is paramount for BH7 trophy pushing base. It acts as the foundation of your defense, deterring enemy attacks and minimizing potential damage. CopyCoCBases recognizes the significance of a strong base design and is committed to providing you with meticulously crafted layouts that combine defensive strength, strategic trap placements, and optimal resource protection.
Our team of experienced Clash of Clans base enthusiasts is constantly researching and analyzing the latest trends and strategies to develop innovative base designs that can withstand the ever-evolving meta. We take pride in offering you layouts that are not only effective but also visually appealing.
At CopyCoCBases, we understand that each player has their own playstyle and preferences. That's why we offer a range of base designs to suit your individual needs. Whether you prefer a compact layout with centralized defenses or a spread-out design that lures attackers, our collection has something for everyone.
Our base layouts are not just visually appealing; they are backed by extensive testing and analysis. We evaluate each design's performance against various attack strategies and refine them to ensure optimal defense. By incorporating these proven strategies into your gameplay, you can confidently take on any challenger in the trophy pushing scene.
Navigating our website is a breeze, thanks to our user-friendly interface. You can easily browse through our extensive collection of BH7 trophy pushing base layouts, view detailed images and descriptions, and choose the design that resonates with your playstyle.
In addition to providing high-quality base layouts, we also offer comprehensive guides and resources to enhance your understanding of trophy pushing strategies. From defensive tactics to attack strategies, our content equips you with the knowledge required to make informed decisions and outsmart your opponents.
We believe in fostering a vibrant community of Clash of Clans enthusiasts. Join our growing community to connect with fellow players, share experiences, seek advice, and stay up to date with the latest news and updates in the trophy pushing realm. We encourage active engagement and discussions to promote a collaborative environment where everyone can thrive.
CopyCoCBases is your ultimate companion in your Builder Hall 7 trophy pushing journey. With our top-tier base layouts, innovative designs, and proven strategies, we empower you to reach new heights in the Clash of Clans trophy pushing scene. Experience the thrill of defending your base and launching successful attacks with our meticulously crafted layouts. Join our community today and embark on a path to glory with CopyCoCBases!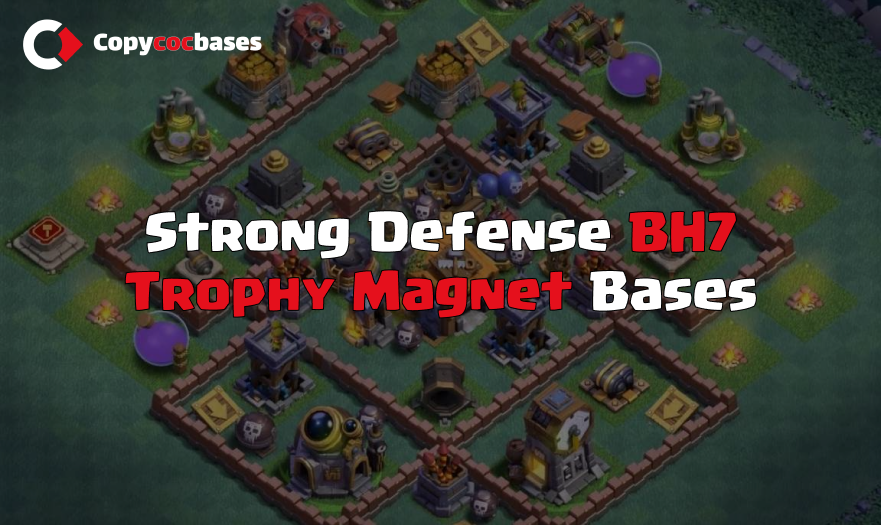 Table of Contents
Builder-Hall 7 Trophy Pushing Base (BH7 Trophy Pushing Base) – 1
Pro style bow-tie base for Builder Hall 7. This one defends VERY nicely against pesky ground troop spam! This is due to the Troll openings that guide attacking troops right into Spring Traps and dueling Crushers. Additionally… take a look at how spread apart your high tier defenses are (like the Giant Cannon, Roaster, Air Bombs and Multi Mortar.) Overall an excellent base to use at BH7! This base is ONLY available on the Android version of Clash Fanatic App! 🤖
Builder-Hall 7 Trophy Pushing Base (BH7 Trophy Pushing Base) – 2
Tall style trophy base for BH7 with a very tricky south end for ground troops. Just take a look at all of the defending Mines that surround the Multi Mortar. Ground troops will get aggroed right into it! As for air attacks… the completely centered Air Bombs will have something to say late into the battle 😎. This base is ONLY available on the Android version of Clash Fanatic App! 🤖
Builder-Hall 7 Trophy Pushing Base (BH7 Trophy Pushing Base) – 3
Fully walled-off Builder Hall on this trophy base for BH7! This one is designed to aggro troops AROUND the base through a maze of Spring Traps and Mines, while avoiding the core. Excellent base to defend against Beta Minions and Baby Dragons. This base is ONLY available on the Android version of Clash Fanatic App! 🤖