Ultimate Top Rated 10+ layout for Enhancing Your TH6 Hybrid Base
Welcome to Copycocbases, the most trusted site for Clash of Clans gamers looking for top-notch base layouts and strategies. In this article, we will explore the intricate world of TH6 Hybrid Base layouts. As a TH6 player, you are at a pivotal stage in your Clash of Clans journey, where your strategic decisions will have a significant impact on your overall progress. By incorporating the right elements into your hybrid base layout, you can defend your resources effectively while maintaining a formidable defense against enemy attacks. Join us as we explore the top 10+ TH6 Hybrid Base layouts, each designed to maximize your chances of success.
Understanding the Importance of a Hybrid Base Layout:
A hybrid base layout in Clash of Clans combines the elements of a farming base and a defensive base. It aims to strike a balance between protecting your resources and defending against enemy raids. At TH6, resource protection becomes crucial as you progress and expand your village. A well-designed hybrid base ensures that you can accumulate resources while deterring attackers from successfully looting them. By effectively defending your base, you can prevent setbacks and maintain steady progress in the game.
Crucial Elements of a TH6 Hybrid Base: Centralized Town Hall placement and protection: Placing your Town Hall in the center of your base minimizes the risk of it being destroyed, reducing the number of stars an attacker can earn. This helps preserve your Trophy count.
Well-positioned resource storage's and collectors: Strategically placing your resource buildings near defensive structures increases the difficulty for attackers to reach them. This discourages them from targeting your resources and ensures their safety.
Strategic placement of defensive structures: Cannons, archer towers, and other defensive structures should be placed strategically to cover a wide area of your base, providing overlapping fields of fire and preventing attackers from easily breaching your defenses.
Utilizing walls and traps effectively: Walls create barriers that slow down attackers and direct them towards defensive structures. Placing traps, such as bombs and spring traps, strategically within your base can catch attackers off guard and disrupt their troops.
Integration of Clan Castle troops in defense: Requesting high-level troops from your clan members and placing them within your Clan Castle adds an extra layer of defense to your base. These troops can help defend against enemy attacks and turn the tide in your favor.
Click to : Builder base layouts
Tips and Strategies for Effective Base Layout Construction:
Analyze attack patterns and adapt your layout accordingly. Observe how attackers approach your base and make adjustments to exploit their weaknesses.
Customize your base layout based on your playstyle. Experiment with different designs and consider your preferred defense strategies.
Seek feedback from the Clash of Clans community. Participate in forums, share replays, and gather insights from experienced players to refine your base layout.
Stay updated with game updates and meta shifts. Clash of Clans is an ever-evolving game, and staying informed about balance changes and new strategies will help you stay ahead of the competition.
Table of Contents
Click to : TH6 War Base
Town-hall 6 Hybrid Base (TH6 Hybrid Base) – 1
Anti-air Town Hall 6 hybrid. Spread apart storage's with hard-to-reach Air Defenses make this a nightmare for Balloon attacks! If you're looking to protect your loot while climbing the trophy ranks, look no further!! (Actually… do look further, because Clash Fanatic has a bunch of really good Town Hall 6 bases eehehehe 😬)
Town-hall 6 Hybrid Base (TH6 Hybrid Base) – 2
Troll springs! Troll springs everywhere!!! Anti-ground Town Hall 6 farming base. This pinwheel-style hybrid base has 4 main outer compartments, with a gated entrance defended by Spring Traps. This base will be a nightmare for Giant attacks, as they're aggro'd into the compartments only to be flung away by the Springs. Wide-design defends nicely against loot snipers. Try this one today!!
Town-hall 6 Hybrid Base (TH6 Hybrid Base) – 3
Anti-air and anti-ground, this Town Hall 6 hybrid pushes your storages far apart, with a layout that keeps your Town Hall nice and protected. A well-rounded base for both looting and trophy pushing. This is a fun base to watch live-attacks on!! 😎
Town-hall 6 Hybrid Base (TH6 Hybrid Base) – 4
The infamous Quad-V Town Hall 6 hybrid. Each storage has its own compartment that is HEAVILY defended with surrounding buildings. Slightly more focused on anti-air, this hybrid base will work hard to secure your loot while keeping your cup-count high.
Town-hall 6 Hybrid Base (TH6 Hybrid Base) – 5
Since Elixir is less-used at Town Hall 6, this base sacrifices one storage to provide extra protection to your Gold & Town Hall. Centrally-located Air Defenses will prove to be tough against Balloon attacks. Solid hybrid layout at Town Hall 6.
Town-hall 6 Hybrid Base (TH6 Hybrid Base) – 6
There are no shortage of compartments on this Town Hall 6 hybrid base! With your Clan Castle and Double Cannon tucked deep in the core, all of your storages have an adequate amount of protection from all directions. Whether the attackers are hitting by ground, by air, or both, this base will do a great job at defending it all!
Town-hall 6 Hybrid Base (TH6 Hybrid Base) – 7
Anti-everything hybrid base for Town Hall 6. This base rocks two Mortar Islands on the east and west end to ward off Giant and Wizard attacks. With your Air Defenses, Air Sweeper and Wizard Towers tucked deep in the core, air attacks will certainly struggle with this layout! Not to mention the little troll spring wall on the north 😉! You're bound to keep both your loot and trophy count nice and safeguarded with this base. Try it today using the Copy button below!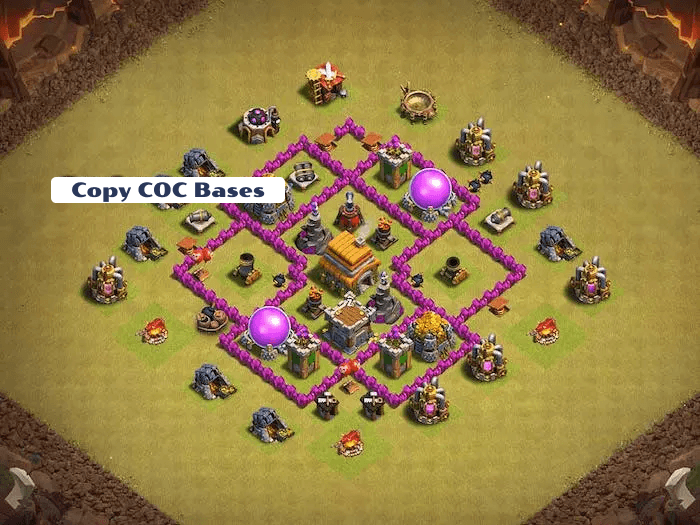 Town-hall 6 Hybrid Base (TH6 Hybrid Base) – 8
Massive center core with the protection of 3 compartments and 1 anti-compartment. This base will ward off the most popular attacks at Town Hall 6 including GiHoWi, Mass Loon & GiHoLo! We recommend tossing 1 Giant and 1 Baby Dragon in your Clan Castle.
Town-hall 6 Hybrid Base (TH6 Hybrid Base) – 9
Four deadly compartments on this Town Hall 6 hybrid! Our favorite aspect of this base is the troll wall on the south end. Ground troops will get aggroed right towards it and fly off the map with the two Spring Traps. For those troops that make it past the Spring Traps, there will be not one… not two… not three… but FOUR Bombs waiting for them! 💣💣💣💣. Great base to secure your loot and trophies.
Town-hall 6 Hybrid Base (TH6 Hybrid Base) – 10
Symmetrical TH6 hybrid base that's ready to take down any attack thrown its way. While your four storages are somewhat snipeable, doing so will attacking troops within range of all of your defenses. By sacrificing a little bit of your loot, you're helping to maintain your trophy count. Give this a shot if you're looking to trophy push while farming Gold and Elixir.
Town-hall 6 Hybrid Base (TH6 Hybrid Base) – 11
Triple heart base hybrid! This base does it all… It defends well to maintain your trophies, it safeguards your loot, and most importantly… it looks awesome!! 💕💜