Best Top Rated Town Hall 14 War Base layout (TH14 War Bases) with These Become a Clash of Clans Legend – Click for the Best Links!
Are you prepared to make history in Clash of Clans? Look no further than these top-rated TH14 war base layout! Our collection of the best bases are designed to help you dominate the battlefield and come out victorious in even the toughest wars.
Each base is strategically crafted to be anti-everything, ensuring that you have the protection you need to keep your defenses strong and your resources safe. Plus, with our easy-to-access links, you can quickly and easily copy the designs into your own game and start dominating right away.
Whether you're a seasoned veteran or just starting out, these Town Hall 14 war base layout are sure to give you the edge you need to climb the ranks and become a true Clash of Clans legend. So what are you waiting for? Click now to access the best links and start your journey to greatness!
Table of Contents
Click to : Th14 another war bases
TH14 War Base – 1
This is a VERY deceiving anti-3 Town Hall 14 war base. Charging the Town Hall compartment will trigger a TON of Traps and Bombs, along with your defending Clan Castle troops. Charging the Eagle Artillery, and attackers will have to deal with a defending Royal Champion, Barbarian King and Archer Queen. The core of this base has plenty of weaponized Builder Huts to help rejuvenate your high-tier defenses. Dependable base to use in Clan War League!
TH14 War Base – 2
This Town Hall 14 war base is a NIGHTMARE for ground troops. Take a look at those two Spring Trap 'zippers.' Ground troops will be forced to weave through SIX different Spring Traps and several Bombs. With the central positioning of your Clan Castle, a troop lure will likely occur late in the battle, just in time to prevent the attacker from getting a triple!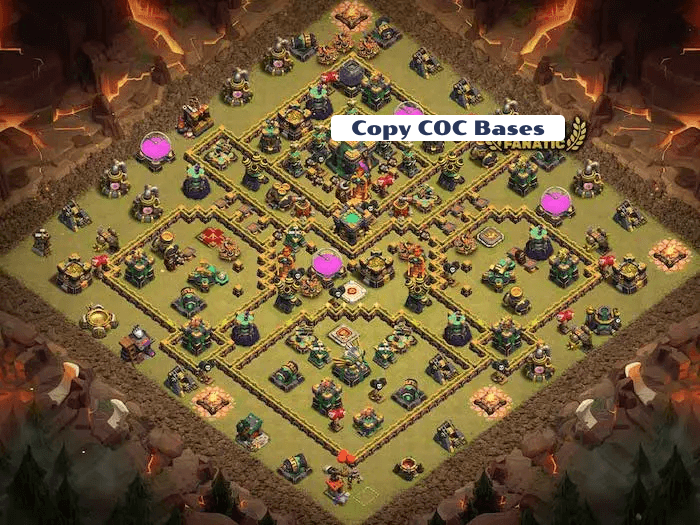 TH14 War Base – 3
Take a look at how difficult your Town Hall is to reach on this Town Hall 14 war base! Wide-style design with a decision to be made… Lure the Clan Castle from the north? or charge the Eagle on the south? Either strategy will prove to be challenging. Tons of traps scattered about the compartments, with Troll Spring openings to fool ground troops! Oh and back to the Town Hall, take note of your two Scattershots and ALL FOUR Royal placements. You're going to like using this one in Clan War!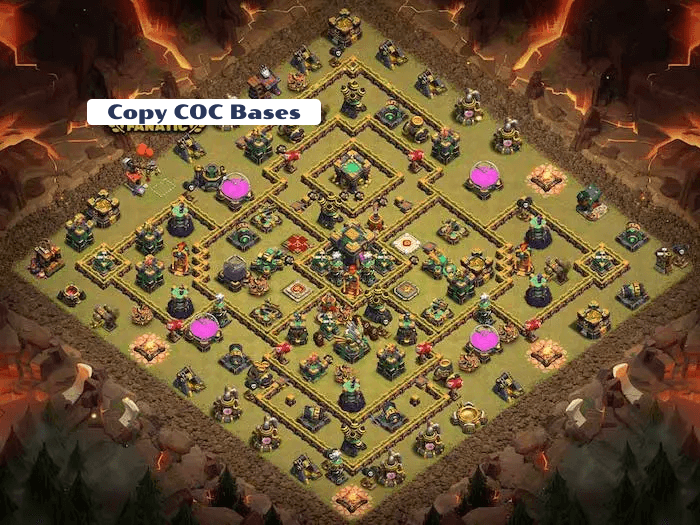 TH14 War Base – 4
Anti 2 Clan War base for Town Hall 14. While the Town Hall is VERY close to the outside, there are a CRAZY amount of hidden traps awaiting unsuspecting attackers! WIth your Clan Castle and Eagle centered in the core, this attack will surey go south once defending troops and the Eagle get triggered. We recommend Super Minions for your defending Clan Castle to help defend against air attacks coming from the west.
TH14 War Base – 5
This Town Hall 14 war base is HUGE! Centered Town Hall with Battle Builder Huts for reinforcement. Another base with a decision to be made… Eagle on the west, or Clan Castle on the east? To help fend off ground troops, we've sprinkled Troll Spring openings all around this base. To help defend air attacks, we've positioned BOTH Air Sweepers outward, and tightly packed the 4 Air Defenses.